API REFERENCE| Promotion in SuperAdmin
Promotions are banners and videos placed in strategic locations to attract attention and promote a particular product, service, or message.
In Tradly, promotions can be directed towards a listing, an account, an external link, or a static message.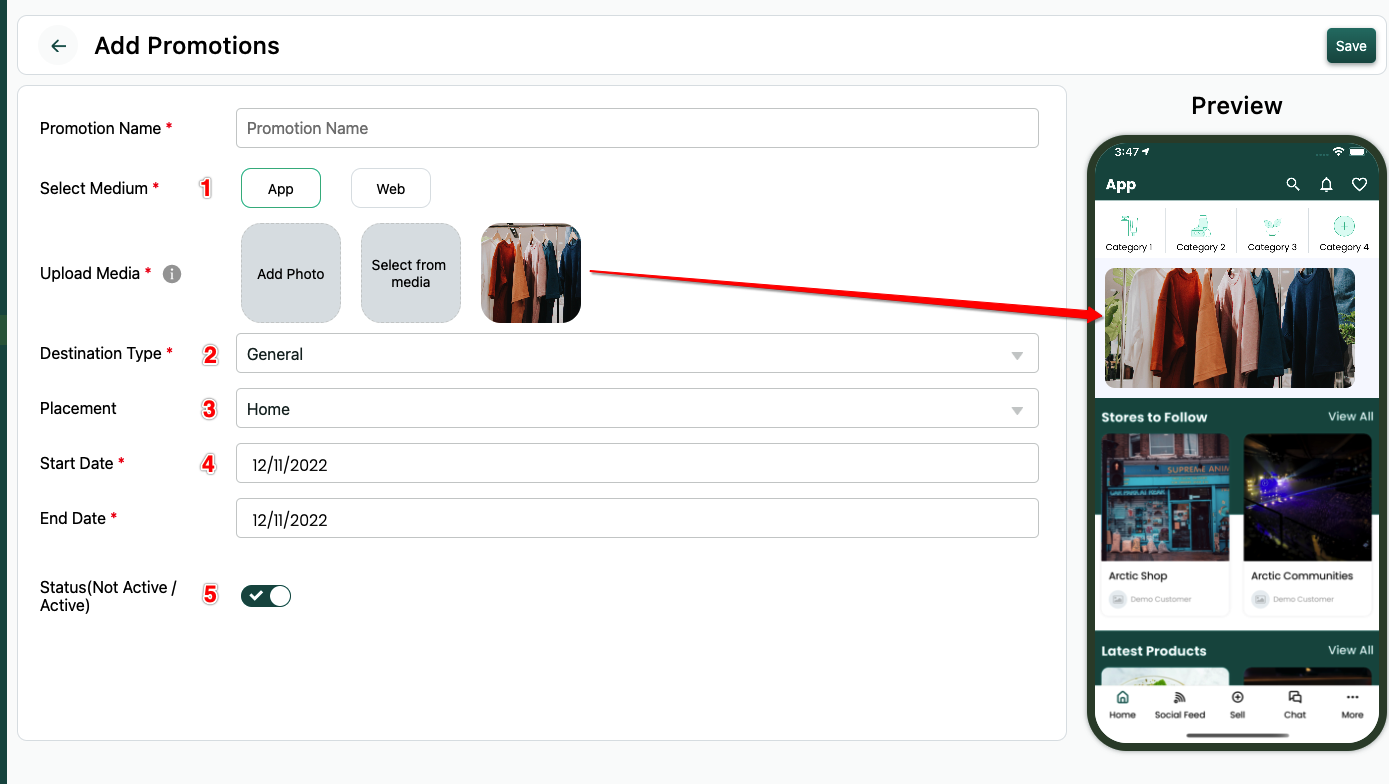 ​
Creating Promotions
To create a promotion, you can use the following options:
Destination: Choose where you want the promotion to link to (e.g. a listing, an account, an external link, or a static message)
Schedules: Choose when you want the promotion to start and end
Placement type: Choose where you want the promotion to be placed (e.g. on the homepage, in a particular section)
Channel: Choose which channel you want the promotion to run on (e.g. web or app)
​
Promo Banners in Admin
As a platform owner, you can use the media section to display promotional materials in prime locations. This could be used to promote important promotions, provide how-to guides, explain features, promote specific products, advertise placements, or direct users to a particular tag (a group of listings).
To add banners:
Give the banner a name (we recommend using a naming convention like "month_campaigntype_optionalnote" for easy analysis and tracking in the future)
Upload an image and crop it as needed
Choose the target destination for the banner
Set the start and end dates for the banner using the schedules
Activate or deactivate the banner using the status function
​
Banner Placement
You can upload different banners for mobile and web applications with different dimensions and settings.
Mobile banner size: 1280 x 720 (the same size you would use for creating Facebook ads on Canva or other platforms)
The app will automatically resize the banner to fit the mobile screen, taking up approximately 80% of the space (excluding padding and card UI)
​
Banner Destination
Banners can be configured for different actions.
Static banners: Use banners as informational or promotional banners
Listing banners: Use banners to promote a particular listing (we recommend including a call-to-action button to differentiate these banners)