It's 2023, with the advent of chatgpt and numerous no-code tools, you might be wondering what's the best way to create a marketplace. You might have thought about situations like.
Building from scratch
Or building using no-code tools
Or taking any open-source tools available to do
Or even tweaking a non marketplace tools like Shopify or WordPress to do it
If I simply say Tradly Marketplace Software would be the best solutions, it will look like a hard sell. So, I'm going to list down why Tradly might be the best choice for you, so you can decide.
​
It's 100% marketplace first solution, not a directory
Tradly is one of the few builders which has native integrations with marketplace wallet/payout-based systems. Tradly also has its payout system, which provides an operational tool alternative to Stripe connect (Only supported in 42 countries). Read more here
Your users can sign up, open accounts themselves (sellers, campaign owners, multi vendors, partners), post listings (products, campaigns, items, services), and receive payouts
Tradly has commission logics, Special fees.
Multi seller cart options, Multiple Shipments tracking under a single order.
Marketplace fulfilment (example, like how Amazon fulfil orders)
For crowdfunding: It offers crowdfunding related features
For non-transactional marketplaces: You can simply deactivate unneccasary features.
​
It's a deep commerce solutions, not a payment button
Not just product catalogue, You have variants of product, Add ons to products
Inventory, Order Rules
Advanced Discount coupons
Dynamic order state machine with order cancellation, shipment dispatch, refund, return, etc
Taxes
​
It's no-code for everyone
Even though we started as a Headless API solution, our breakthrough to democratise these solutions happened when we released pre-built templates on 2022 and with an editor to customise the templates.
It allows you to play with your design system
Activate or Deactivate certain functionalities with a toggle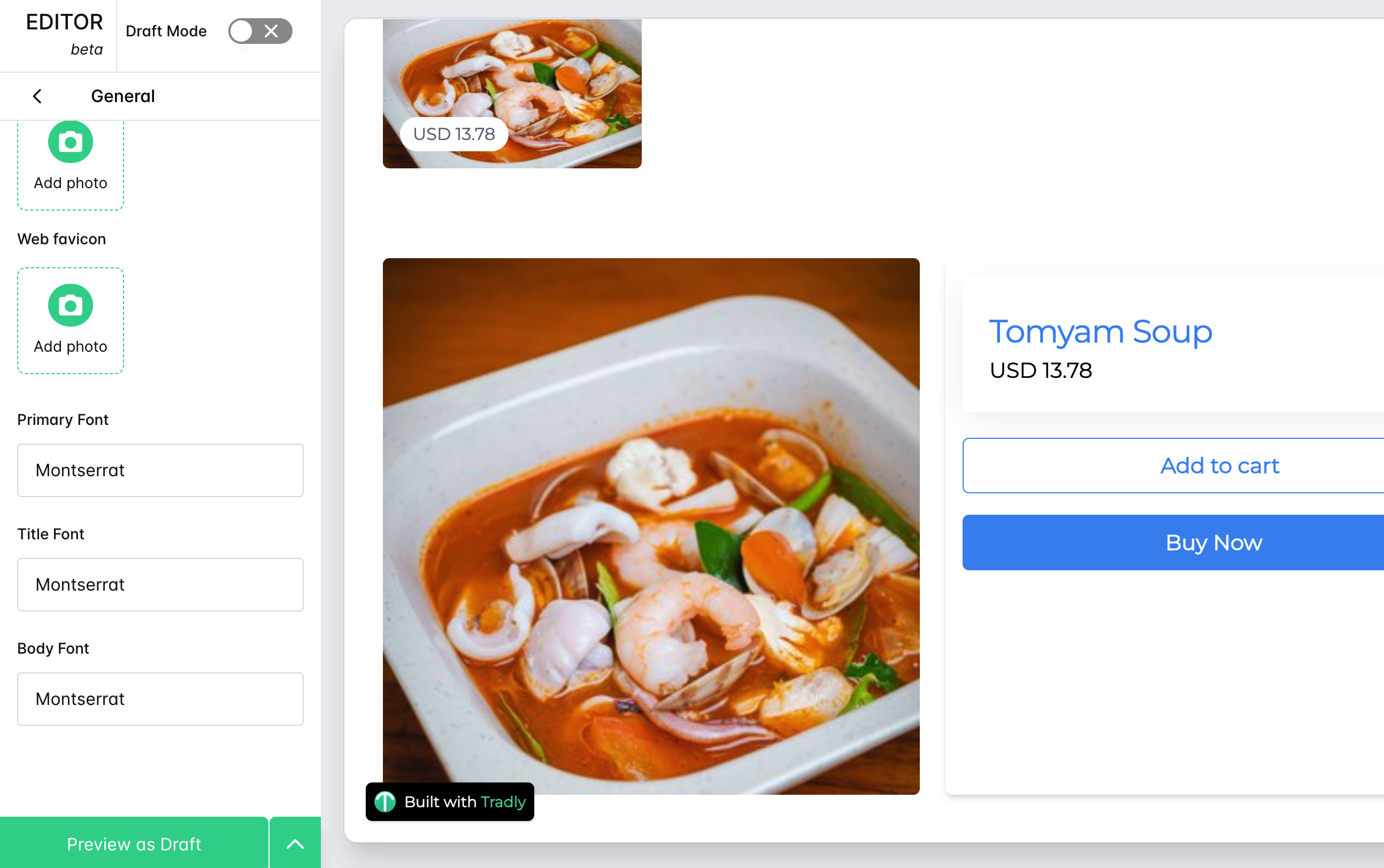 ​
Customer-centric solutions
Custom filters to browse products
Simple one-page checkout
Ratings & reviews
Questions & answer like Amazon
Follow sellers, like products, etc.
There are another 25–50 features I can explain but you will love it when you explore yourself.
​
What is not Tradly?
It's a not limited directory solutions where you just connect a database from Airtable or Google sheet to display the records
It's also not a fancy website builder like Webflow or Wix.
It's also not a simple cart-based system like Shopify or WordPress for a single store.
​
Pricing
Our solutions start from free, with a super cheap starter package, but still have premium options as well to meet your be-spoke needs.
This pricing covers both backend and front end. You don't have much additional cost when you compare other solutions where you need to pay for backend records separately and front end tools separately.
​
It grows with you when you scale
When you start, you can start with pre-built templates. Simple and super fast to validate your idea.
When you grow, you can get tradly to customise your website, or you can fork open-source website code to build a custom website from scratch
When you scale, you can continue with your custom website and use Tradly Headless Api to connect with multiple systems for different department data sync.
If you compare Tradly with other no-code solutions, you will not get this number of features or flexibility for every scenario. Take a Google sheet and write down all the features and compare by vendors. You will see what's your best fit.
Need further information, we would like to show you on a demo call.