Welcome to Tradly, the online toolkit that helps you launch your own e-commerce website or marketplace for selling high-quality products from Senegal to buyers around the world. With our platform, you can create your own professional website or marketplace and start selling directly to customers, cutting out the middlemen and setting your own prices.
From fresh and frozen fish to ground nuts, coconuts, legumes, melons, soups, broths, and ground nut oil, Sell and showcase the best of Senegal's agriculture.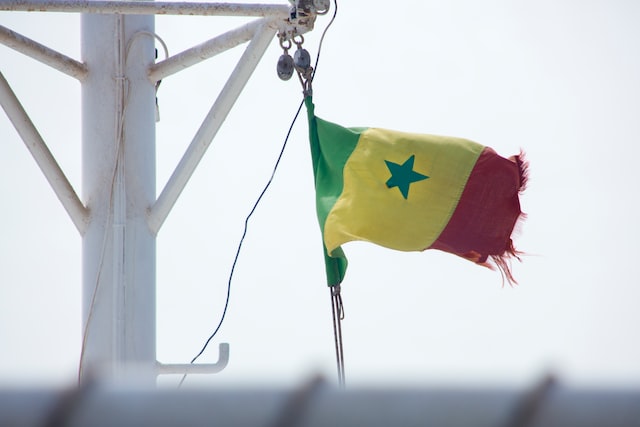 ​
Why Choose Tradly?
Launch your own website or marketplace: With Tradly, you have all the tools you need to create your own professional website or marketplace for selling products from Senegal. Our platform is easy to use and includes features like product listings, payment processing, and customer management.

Set your own prices: You are in control of the pricing for your products. You can set prices that reflect the quality of your products and the value you offer to customers.

Direct sales: By selling directly to customers, you can cut out the middlemen who can drive down prices and take a large percentage of the profits.

Promote sustainable farming practices: Tradly is committed to promoting sustainable and organic farming practices. We encourage farmers to start building independant business that they can control.

Help farmers get a fair price for their crops: The low prices that many farmers in Senegal receive for their crops can make it difficult for them to make a living. By launching your own website or marketplace, you can help these farmers get a fair price for their hard work.

Promote fair trade options: Many farmers in Senegal lack access to fair trade options, which can result in them receiving low prices for their crops. By launching your own website or marketplace with Tradly, you can promote fair trade options and help farmers receive a fair return for their products.
Join Tradly today and start building your own website or marketplace for selling high-quality products from Senegal to buyers around the world
It's easy to launch your store with Tradly
Register for free & Pay as you grow
Customise your template with simple toggle & form based input
Add Integrations without any code or technical implementations
​
PayDunya For Senegal
Tradly have PayDunya payment gateway integration for you to setup online transactions to receive foreign credit cards, etc.
​
Register a free account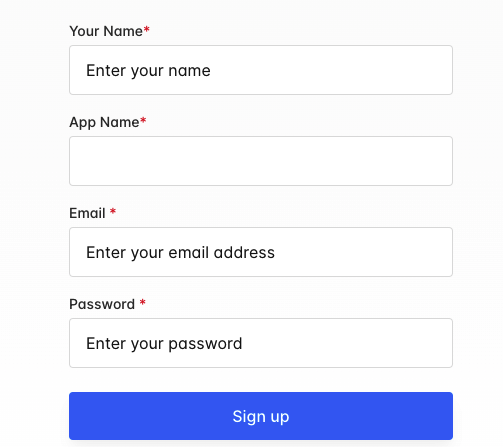 ​
Setting Up Store
​
------
​
Add Products
Write your product title and description. Upload product photos or other media. Set your price, Setup Stocks limit.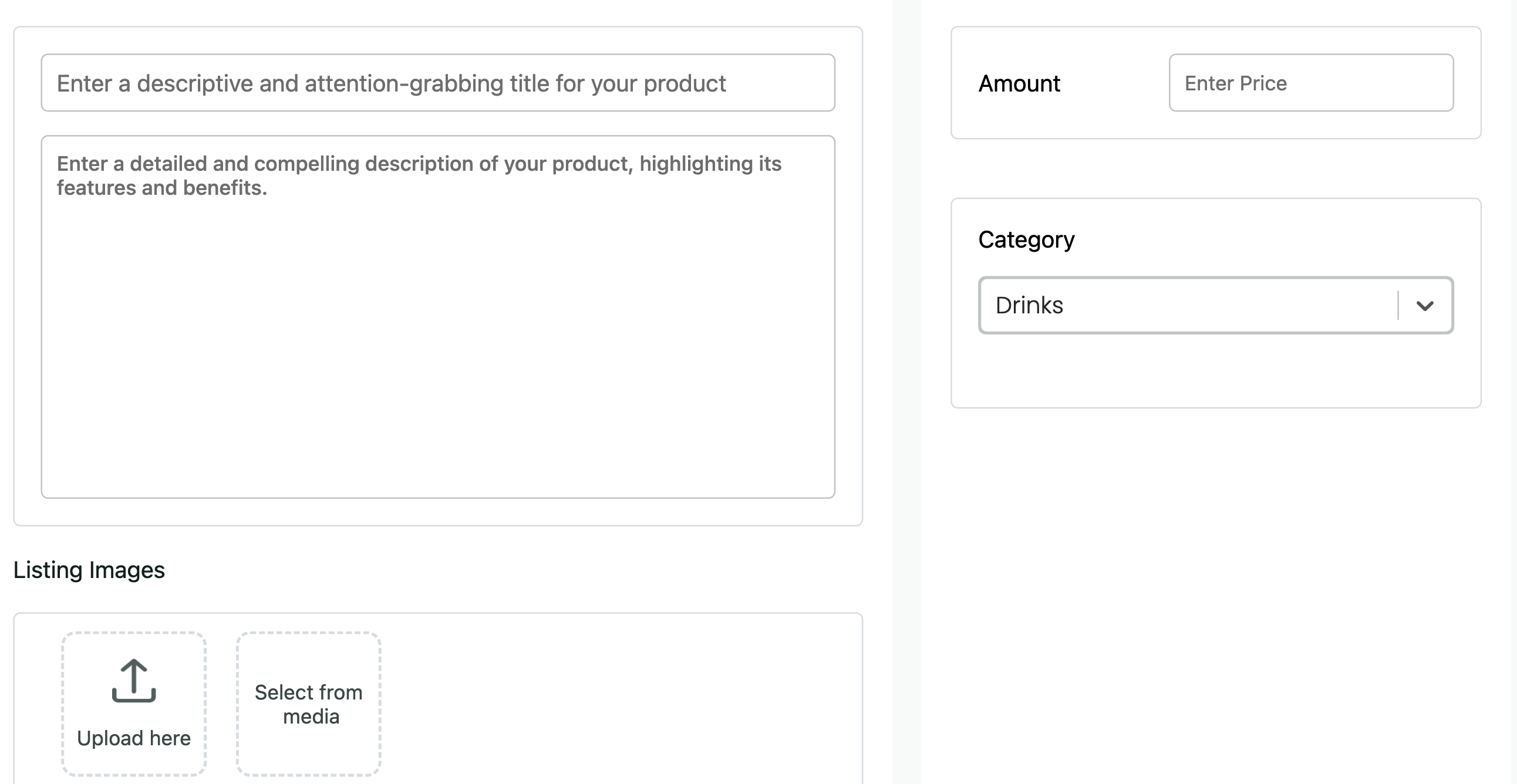 ​
Activate Payment gateways
We support multiple payment gateways. If you are interested in implementing a custom payment gateways, let us know in the contact form.
​
Activate Shipment options
Pick up at source

Delivery/Pick up at Storage Points

Delivery at Destination

Delivery
​
Add your custom domain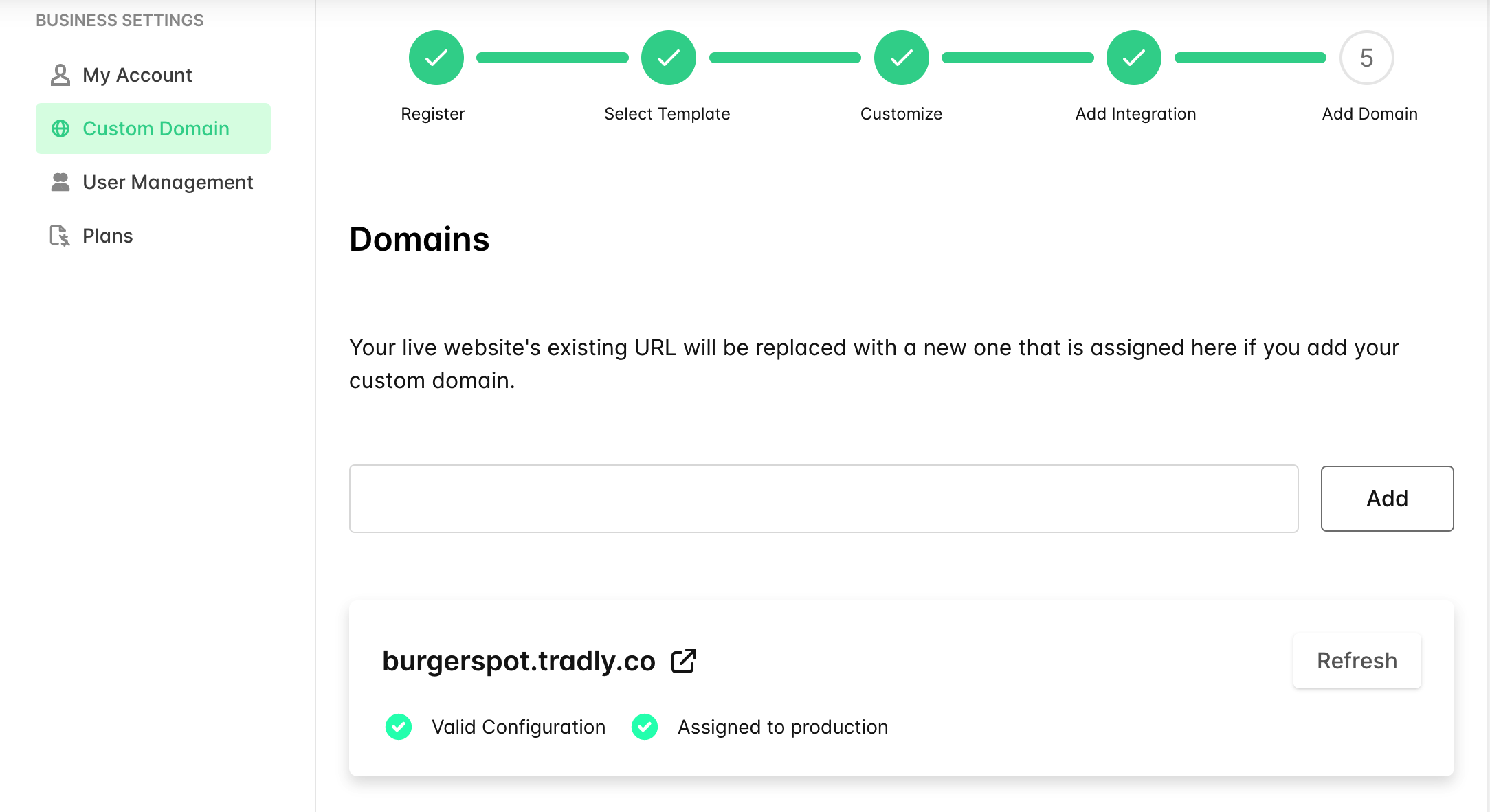 Your store is ready to start making money 🚀
​
Customising Store
​
------
For a start, get started with a simple one, so you can focus on important aspects of the business.
​
Branding
Add your branding (Set your colours, typography, and other theme settings)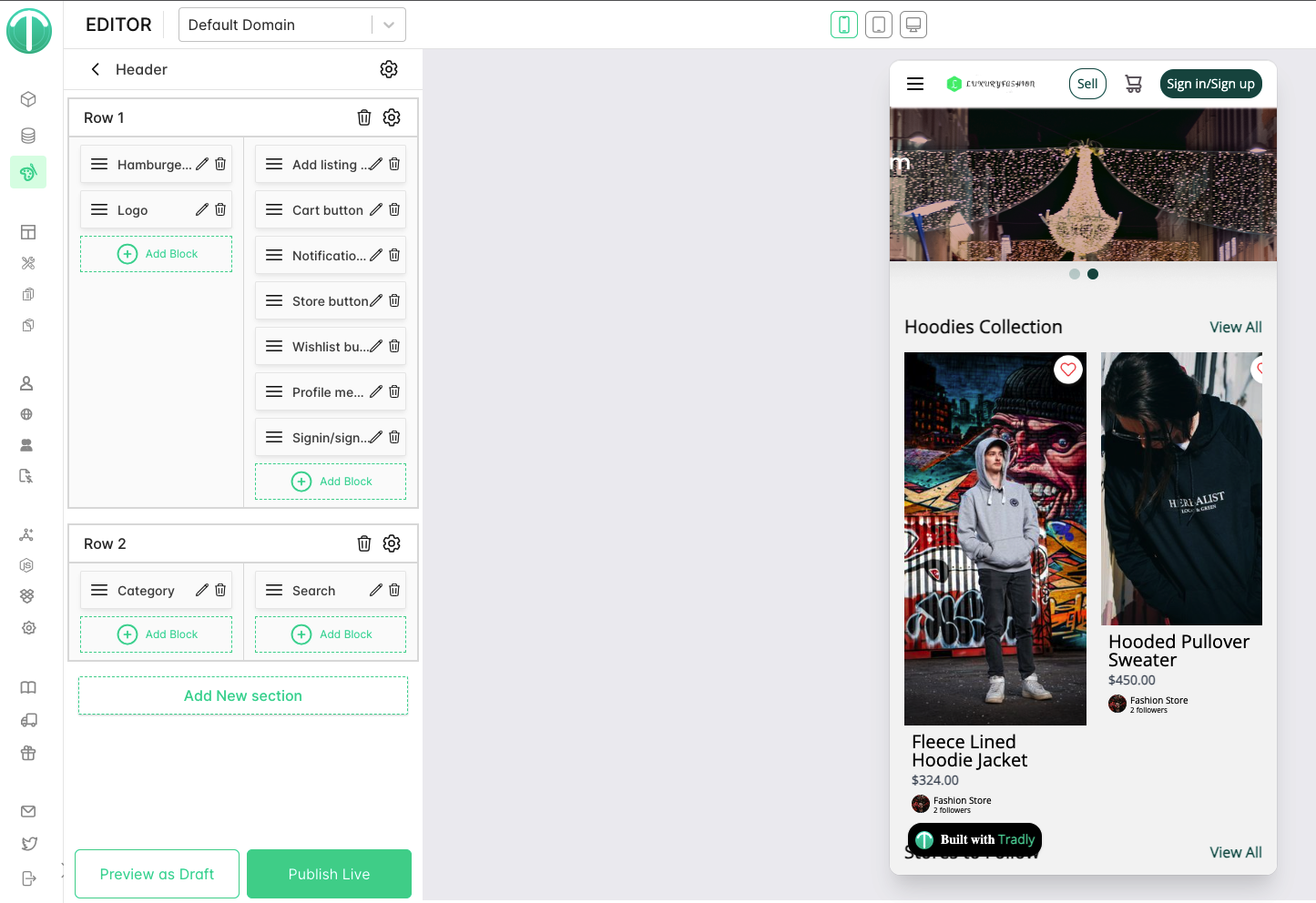 ​
Pages
Business crucial pages like about us, FAQ, Privacy, Terms, contact us page, etc can be created
​
Advanced Features
​
------
​
Product Collection
Organise your products into collections (Thematic, promotional, season etc)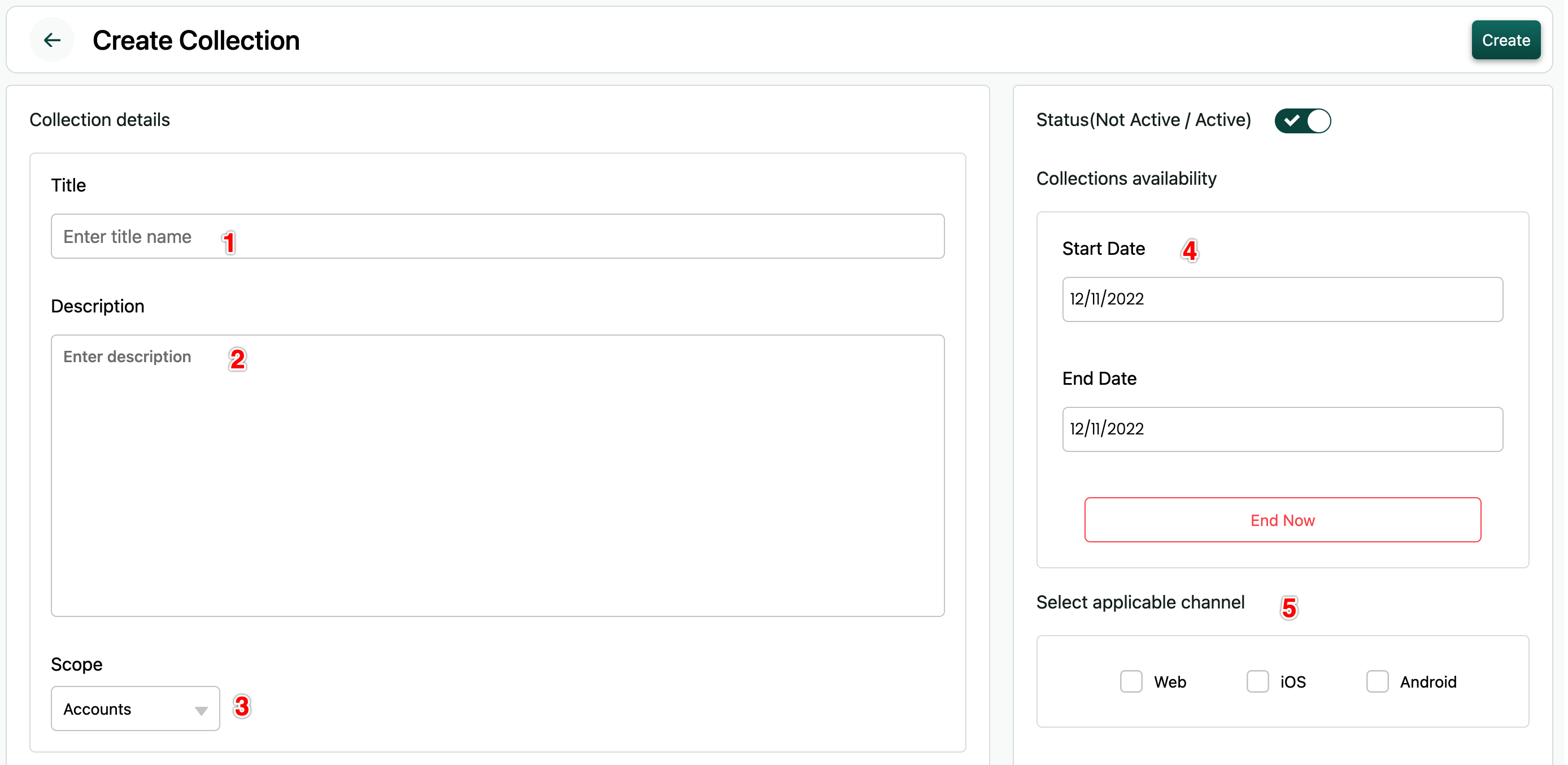 ​
Taxes (Advanced)
Discounts
Mini-tools (QR Code Generator, Barcode Generator, Short Link generator, UTM Generator)
​
Product Types
Items with Variances
Items with Bundles Read more about Variation Here.

​
Advanced Rules
Limit number of items purchased on platform level (Stocks, Ticket Limits)
Limit number of items purchased per user
Limit Minimum Price, Minimum Quantity, Maximum Quantity
Limit minimum total order size on Payment method level
Read more about how to use this rules here
Learn more about shipping methods.
​
Custom Fields (Attributes) for Product descriptions & Filters
You can easily add custom fields for your product adding page. And it can be customised to be shown on listing category level.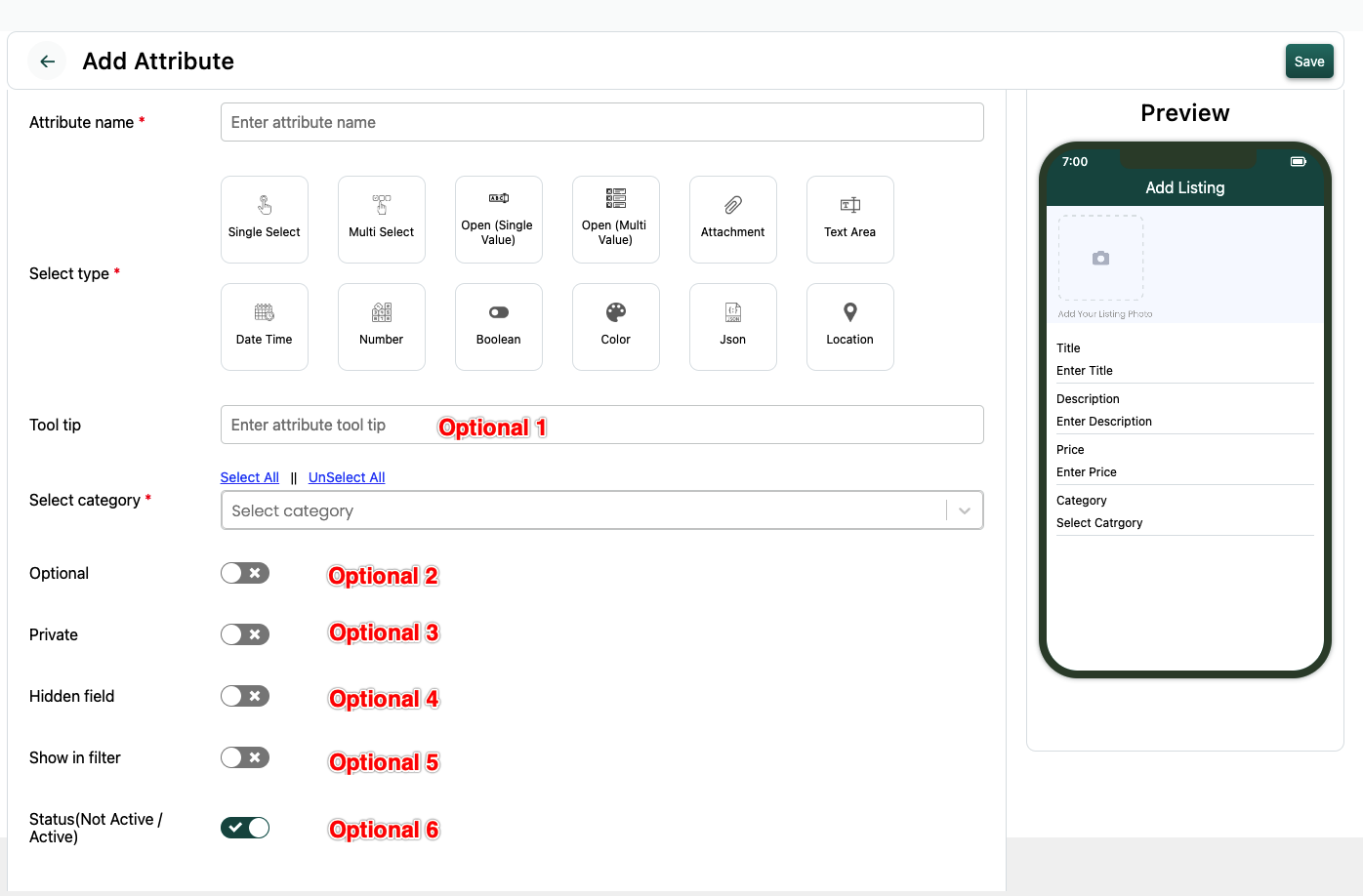 ​
Monitoring Business
Inventory report
Sales report
​
Growing your Store
​
------
On top of Tradly Free Creator tools. You can add 3rd party apps inside your store for further faetures.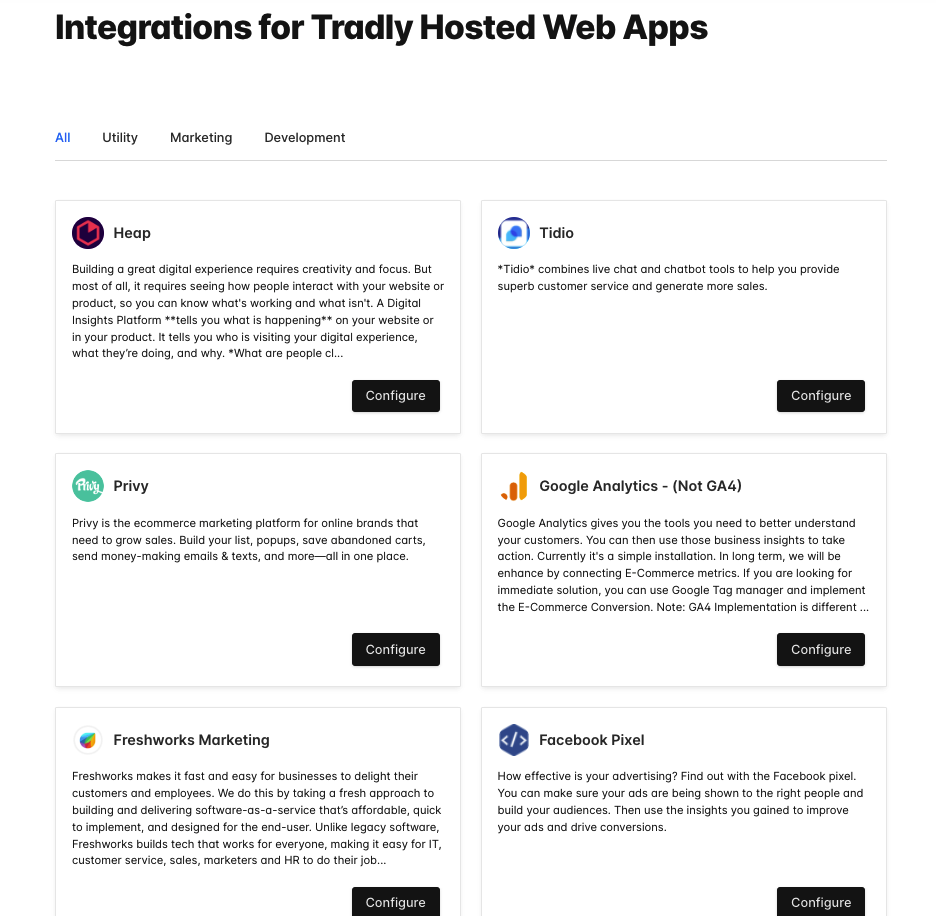 ​
SEO
SEO (Structured card image) & Search engine listing preview,
​
Email Tools
Integrating your online store with Marketing Tools (especially Mailchimp for emails)
​
Advertising Tools
Your hosted website can add integrations to run ads. Example: Facebook Pixel, Google Ads Conversion Pixel can be added through Native integrations. or you can use Google Tag Manager integration to do advanced pixel placement in specific pages or custom trigger condition.
​
Analytical Tools
Connect with Analytical Tools (like Google Analytics)
​
Feedback & Survey Tools
Connecting with Feedback & UX monitoring tools (like Hotjar, clarity) (By default, we have feedback form)
​
Promotion / Popup tools
Connecting Promotion / Popup tools
Advanced Growth Tactics
Increase AOV by setting up minimum purchase
Create Collection pages to get more exposure in Google Search results or thematic celebrations.
​
Scaling your Store
​
------
Established and looking to expand & Scale?
Fleet Management System to manage your own deliveries thus reducing cost and providing end-to-end delightful experience for your customers
Mobile Apps for your customers, so they can be in touch with you everyday
Additional Integrations on backend level (Via API and Webhooks) to support with your internal systems