Growth Marketing is something we believe in. Your team might be just you or a lean or a large team. We considered everything when we design our feature sets.
The platform functinality has been developed with 3 different goals.
​
Simple for beginners and Native Features
A single and beginner should not need to spend so much time learning new tools or integrating new tools. Hence we have a simple marketing functionality pre-built. And under being one single interface, you might not need to learn new tools
Promotions (Merchanding banner promoting a particular product or collection, etc)
​
Native integration with Google
By default, the website code are SEO friendly and high native integration to Google.
Listing has rich snippets, so the products are ranked in Google with product reviews, product price, stock, SKU, etc

Accounts has rich snippets, so the accounts are ranked and shown with location, etc.

SEO Scripting on individual or Platform level
​
Analytics and User Behaviour
Reports (5-10 pre-built widgets)
User Profile in superadmin with mini CRM(has LTV, Frequency, order data)
​
Intermediate and Native Features
​
No-code Integrations
25+ no-code integrations for all the hosted templates available. You can simply activate any integrations by pasting only the unique identifier ID.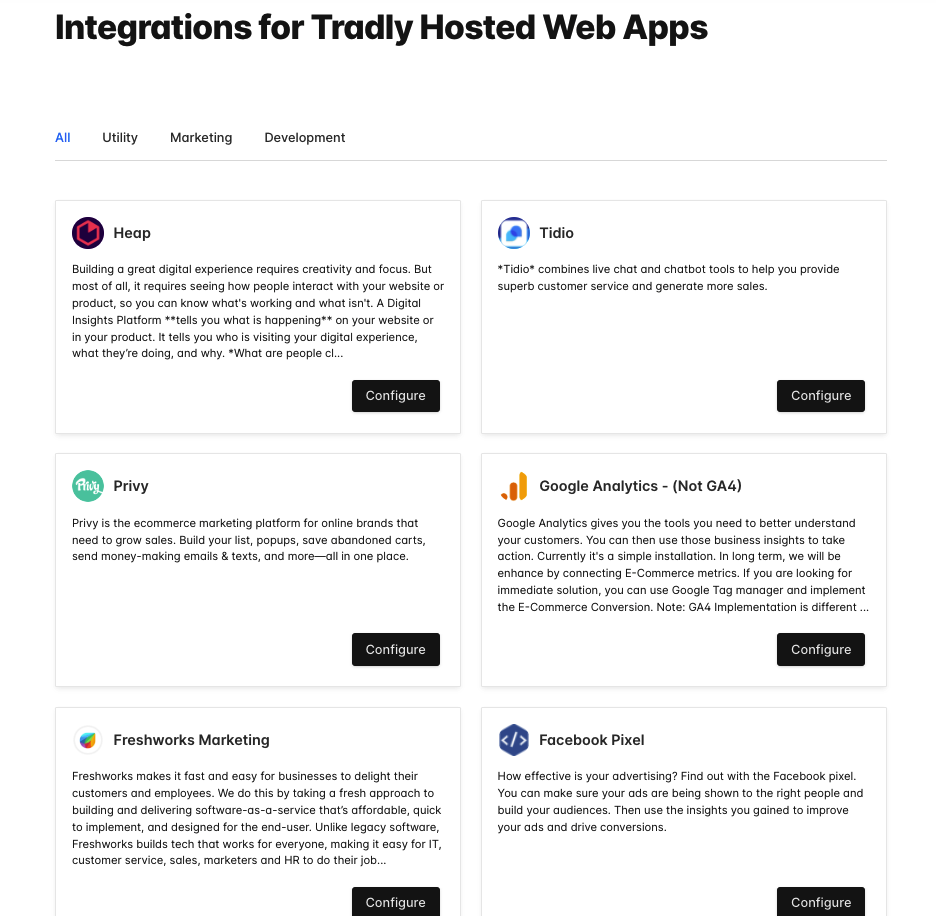 ​
Event Based Tracking by default
All the interactions happens in your platform has event tracking setup by default and avaialble in datalayer. You may use it with
Google Tag Manager and then send data to multiple tools
GA4 Automatically fetches the events in datalayer.
And you can connect this data to any analytical tools.
Learn more about Event Tracking Setup
​
Webhooks
Plus Webhooks, you can send the data from backend to any tools which supports webhooks. All on real time.
Know about Webhooks
​
Advanced
Are you a marketing technology specialist?
The common tools
Open Source Web template repo
Google Tag Manager
Webhooks
JS SDK
Headless API
​
Plus User Generated Contents
For Marketplaces and Platforms.
Under your marketplace and platforms, you can allow people to make variety of user generated contents that helps your SEO.
User Generated Articles : Your users can create articles and post there.

User Generated Q&A: Your users can ask questions and your account owners can answer the questions thus creating an unique piece of content inside the listing. This allows your platform to have unique contents without even you writing about it which helps the SEO.