One thing you need to be careful when choosing a stack to build your digital product marketplace is focused platform. Shopify or Wordpress are not developed as marketplace first platform to launch your marketplace. They are pure b2c platform where you can sell your products as a single storefront. Indeed there are so many wordpress plugins & shopify apps that can convert your single storefront into marketplace. And it may look easy and possible on your first few days of marketplace building. But when the days pass and when your transactions started coming in, that's where you will face operational issues. Simple examples like you as a marketplace cannot change the flow of buying experience or seller onboarding experience or seller payout operations or how the product can be packaged into variants/add-ons/preview products, etc.
If you have ample of time, you have time to test all this and make note of all the pitfalls. But if you do not want to take a risk on betting this platform when you have limited time, money and energy.
Marketplace Builder Platforms like Tradly are marketplace first solutions. You have deeper features as building blocks to customise your marketplace, control the marketplace operation and launch as you prefer.
​
What is Digital Product Marketplace?
A digital product marketplace is an online platform that connects digital product creators with potential buyers. These marketplaces offer a wide range of digital products such as software, ebooks, courses, music, videos, graphics, and more. They provide a centralized platform for sellers to list their products and for buyers to search, purchase, and download them.
Digital product marketplaces provide many benefits for both sellers and buyers. For sellers, they offer a ready-made audience of potential customers, a reliable payment system, and a user-friendly platform for selling and promoting their products. For buyers, they provide a convenient way to find and purchase high-quality digital products from a variety of creators, with built-in customer support and easy access to downloads.
Some popular examples of digital product marketplaces include Amazon, iTunes, Udemy, Envato, and Creative Market. These marketplaces have become increasingly popular in recent years, as more people have turned to digital products for entertainment, education, and business purposes.
​
How to configure?
Most of the marketplace template in Tradly allows you to activate digital product options.
Go to SuperAdmin > Listings Features Activation > Enable Digital Products.
​
How Tradly Hosted Marketplace works?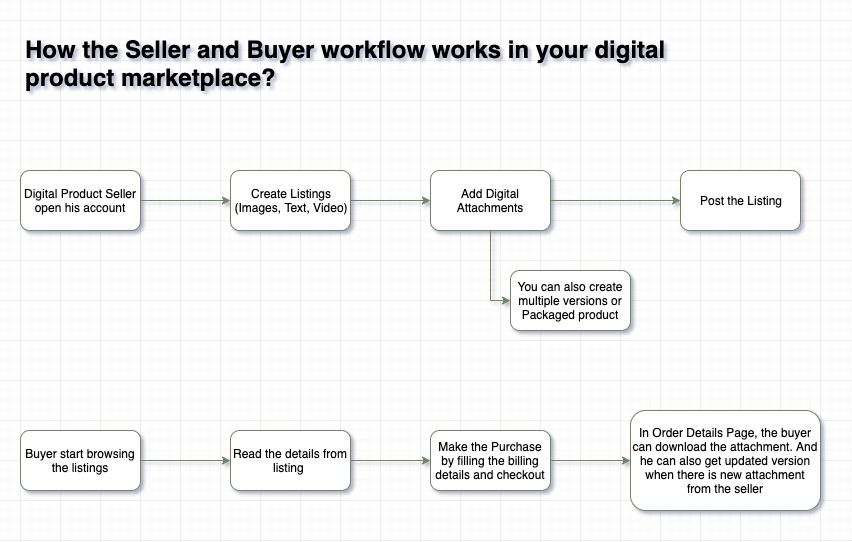 ​
Digital Product Marketplace Examples
Here are similar digital product marketplaces that you can build with Tradly no-code solution or Headless API.
iTunes (music and video marketplace)
Udemy (online course marketplace)
Creative Market (design and graphics marketplace)
ThemeForest (WordPress themes and templates marketplace)
CodeCanyon (WordPress plugins and scripts marketplace)
Shutterstock (stock photo and video marketplace)
VideoHive (stock video marketplace)
AudioJungle (stock music marketplace)
Pond5 (stock video, music, and sound effects marketplace)
Etsy (handmade and vintage items marketplace)
Gumroad (digital products marketplace for creators)
Teachable (online course marketplace for educators)
Skillshare (online course marketplace for creatives)
99designs (design contest marketplace)
Envato Elements (subscription-based marketplace for digital assets)
Sellfy (digital products marketplace for creators)
Dribbble (design community and job board)
Tradly makes it simple and easy 

to launch projects.

- Launch Marketplaces, Online Storefronts, Booking Apps, Classifieds, Directories, Partner Portals, App Stores, etc.
- Tradly pricing starts with ZERO. You pay only when you grow.
- Free No-code Integrations, No-Code Editor
Checklist from start to end on what you need to build a marketplace using Tradly Platform.
Tradly Platform solution is catered to different groups separately
For developers: Headless API solution. Using the API solution, developers can build apps on top of it.
For no-code creators: A simple toggle based SuperAdmin Panel to configure features in the already pre-built apps (also called as storefront, front end apps, templated apps).
Tradly Definition
Listings is same as products, campaigns, items, etc. Listing has features like pricing, inventory, etc.
Account is same as sellers, campaign owners, donors, etc. Account has features like wallet, payout, shipping preferences, etc.
You will continue to see we use Listings and accounts in all our articles and documentations.
​
5 Steps for no-code creators and builders
Choose the templates (https://tradly.app/templates)

Do the branding customisation & business informations on Editor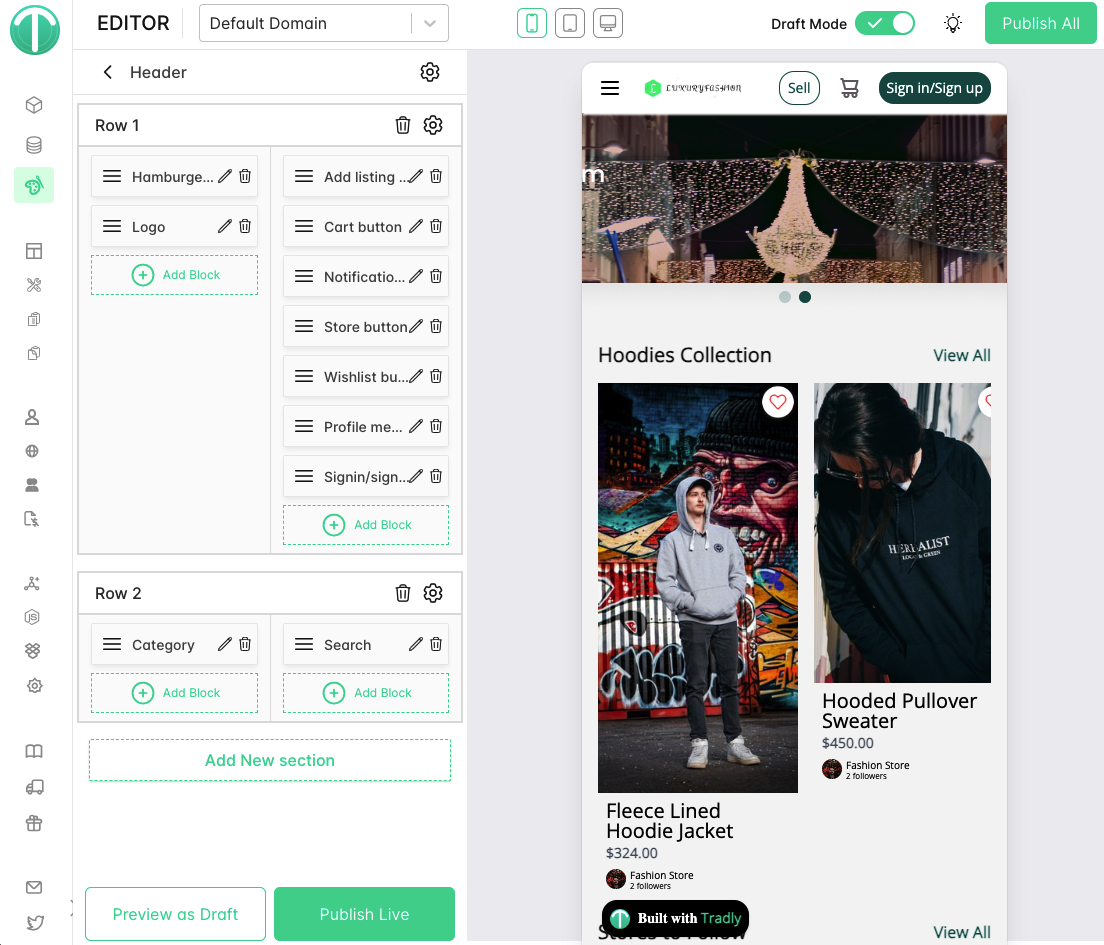 Launch
Web App: By default when you register, you will get the production URL to use the app. And you can add custom domain.
​
Advanced Informations
​
A. UI Customisation via Editor
Global Styling (Font, Color, Padding, Gap, Buttons)
Business Informations
Header Customisations
Feature Activation/Deactivation
Footer Customisations
​
B. Platform Fundamentals
You must configure the below things for the system to be able to open accounts, submit listings and make purchases.
Configure accounts in SuperAdmin > SideMenu > Accounts(categories, attributes)

Configure listings in SuperAdmin > SideMenu > Listings(categories, attributes)

Stripe/other payment gateways configuration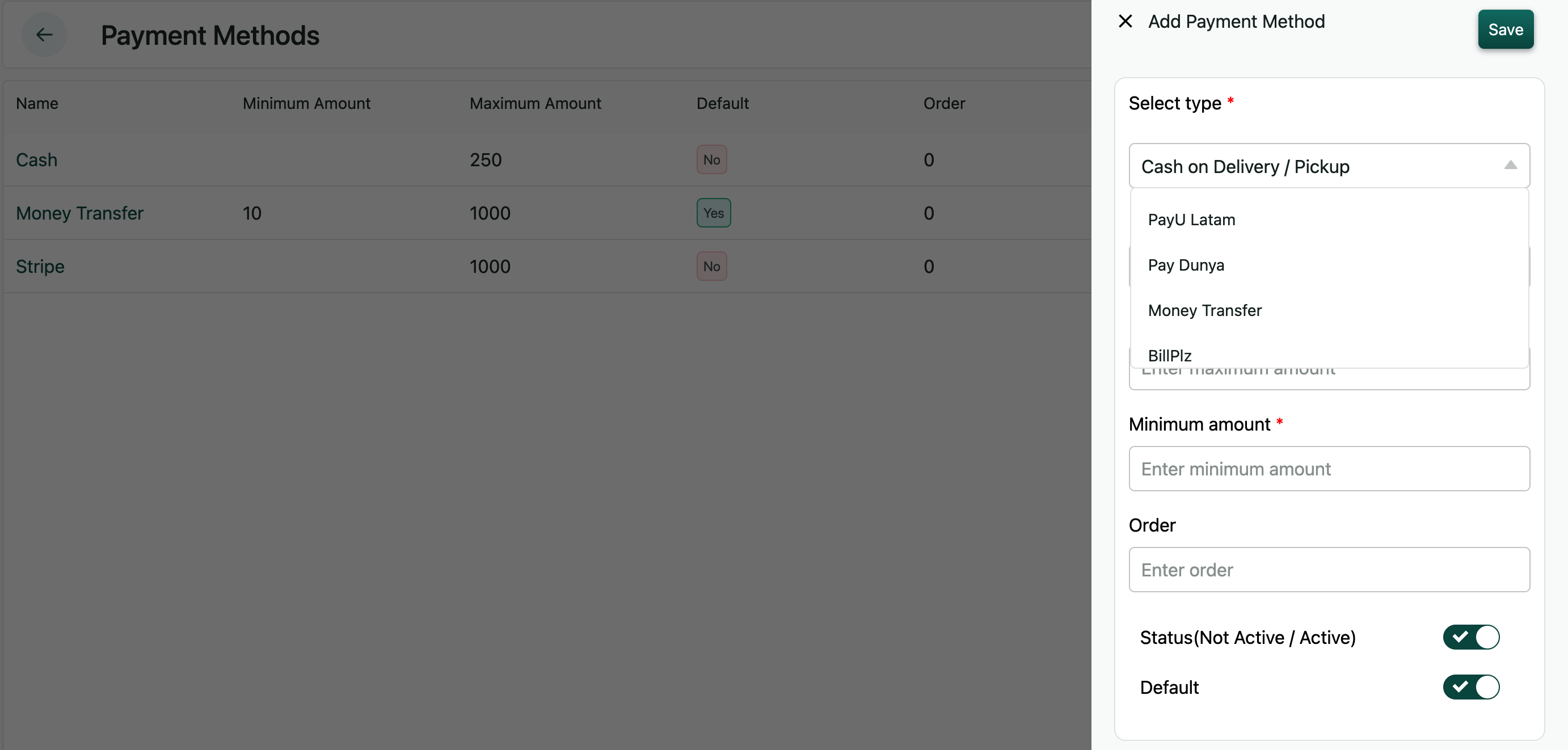 Configure revenue model, commissions: Settings > commissions OR Settings > Subscriptions OR Settings > Special Fees
​
C. Web Integrations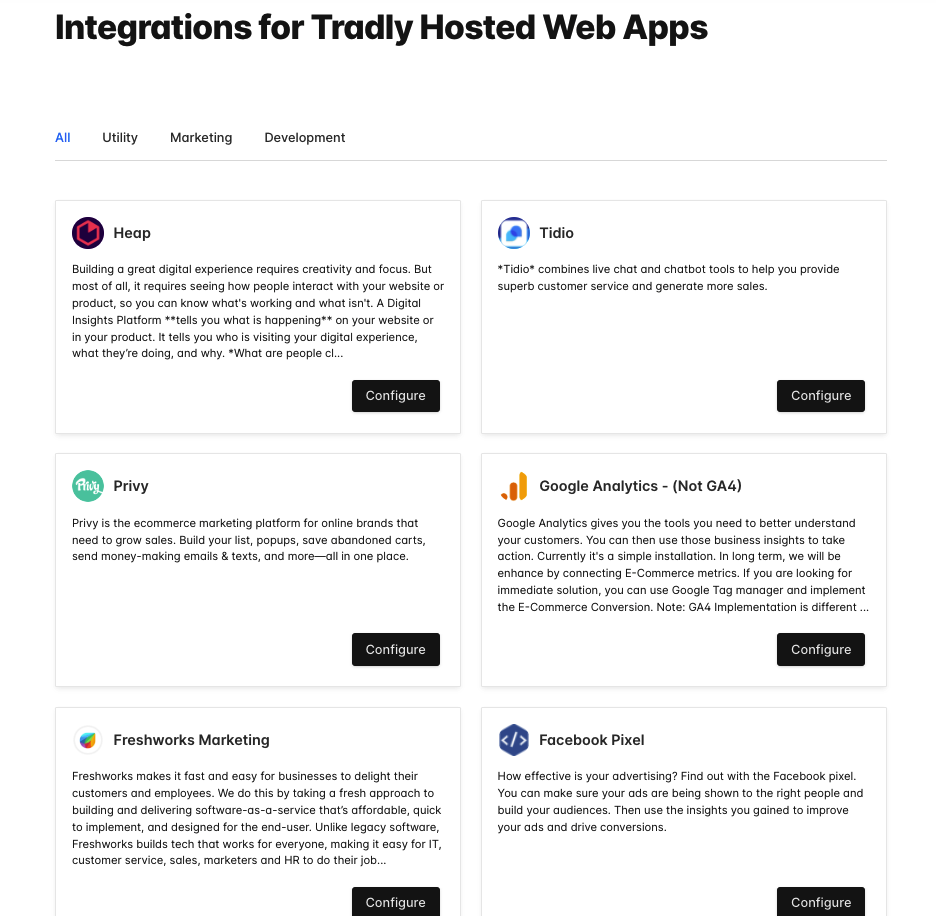 Dozens of website integrations to help you with marketing, analytics and products. Check here
​
System integrations
Configure email if you want the emails to be whitelisted
Configure domain if you want good deliverability of emails
Configure Google Maps if you have location specific features
​
For developers
Tradly makes it simple and easy 

to launch projects.

- Launch Marketplaces, Online Storefronts, Booking Apps, Classifieds, Directories, Partner Portals, App Stores, etc.
- Tradly pricing starts with ZERO. You pay only when you grow.
- Free No-code Integrations, No-Code Editor