Are you ready to take control of your market insights and pricing strategies? Discover the ease of building your own price monitoring portal using Tradly, an innovative no-code platform designed to streamline the process. In this guide, we'll unveil the key features and benefits that can transform your approach to commodity price tracking, product monitoring, investment analysis, and even real estate price surveillance. Please note that these exclusive features are available on Tradly's paid packages, ensuring a premium and tailored experience for your business.
Unlock a World of Possibilities: Tradly offers an array of tools to create a customized price monitoring solution tailored to your unique needs. Whether you're tracking commodity prices, managing limited edition product releases, monitoring special investments, or keeping an eye on real estate prices, Tradly provides the building blocks for your success. The best part? You can bring your vision to life in just one day.
Key Features for Your Price Monitoring Portal:
​
1. Bulk Upload, Export, and Import via CSV
Simplify your daily price updates with Tradly's intuitive bulk upload feature. Effortlessly manage your product database by importing and exporting data through CSV files.
​
2. API Access
Seamlessly integrate your portal with Tradly API to update prices dynamically. This feature ensures real-time accuracy and efficiency in managing your items.
​
3. Google Sheet Level Integration
Take advantage of the user-friendly Google Sheet integration. Download product information and prices directly from Tradly API, make necessary edits, and effortlessly upload the updated data.
​
4. No-Code Editor
Customize your price monitoring and intelligence portal without the need for external assistance. Tradly's no-code editor empowers you to make changes effortlessly, ensuring your portal evolves with your business needs.
​
5. Subscription-Based & Private Platform
Monetize your price monitoring solution by offering exclusive access to subscribed users. Create a private platform where only your designated audience can benefit from your valuable insights, creating a new revenue stream for your business.
​
Explore Endless Possibilities
Tradly doesn't stop at these five features; it provides over 25 building blocks to help you craft the perfect tool for your business. Dive into our comprehensive documentation and features pages to explore the myriad possibilities waiting for you.
With Tradly, building your own price monitoring portal has never been more accessible. Take charge of your market intelligence, enhance your pricing strategies, and open new revenue streams with a customized solution that puts you in control. Embrace the power of no-code technology and elevate your business to new heights. Start your journey today with Tradly.
​
How it works?
Checklist from start to end on what you need to build a marketplace using Tradly Platform.
Tradly Platform solution is catered to different groups separately
For developers: Headless API solution. Using the API solution, developers can build apps on top of it.
For no-code creators: A simple toggle based SuperAdmin Panel to configure features in the already pre-built apps (also called as storefront, front end apps, templated apps).
Tradly Definition
Listings is same as products, campaigns, items, etc. Listing has features like pricing, inventory, etc.
Account is same as sellers, campaign owners, donors, etc. Account has features like wallet, payout, shipping preferences, etc.
You will continue to see we use Listings and accounts in all our articles and documentations.
​
5 Steps for no-code creators and builders
Choose the templates (https://tradly.app/templates)

Do the branding customisation & business informations on Editor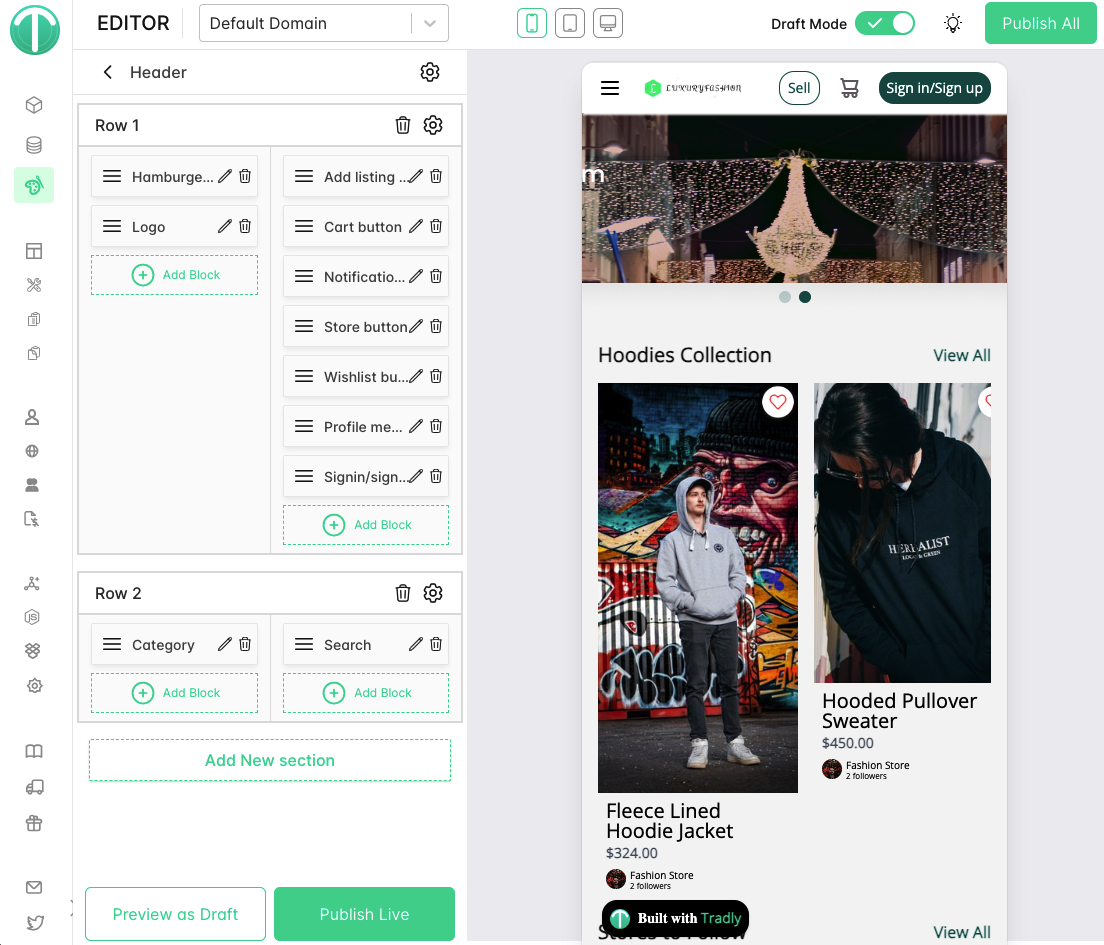 Launch
Web App: By default when you register, you will get the production URL to use the app. And you can add custom domain.
​
Advanced Informations
​
A. UI Customisation via Editor
Global Styling (Font, Color, Padding, Gap, Buttons)
Business Informations
Header Customisations
Feature Activation/Deactivation
Footer Customisations
​
B. Platform Fundamentals
You must configure the below things for the system to be able to open accounts, submit listings and make purchases.
Configure accounts in SuperAdmin > SideMenu > Accounts(categories, attributes)

Configure listings in SuperAdmin > SideMenu > Listings(categories, attributes)

Stripe/other payment gateways configuration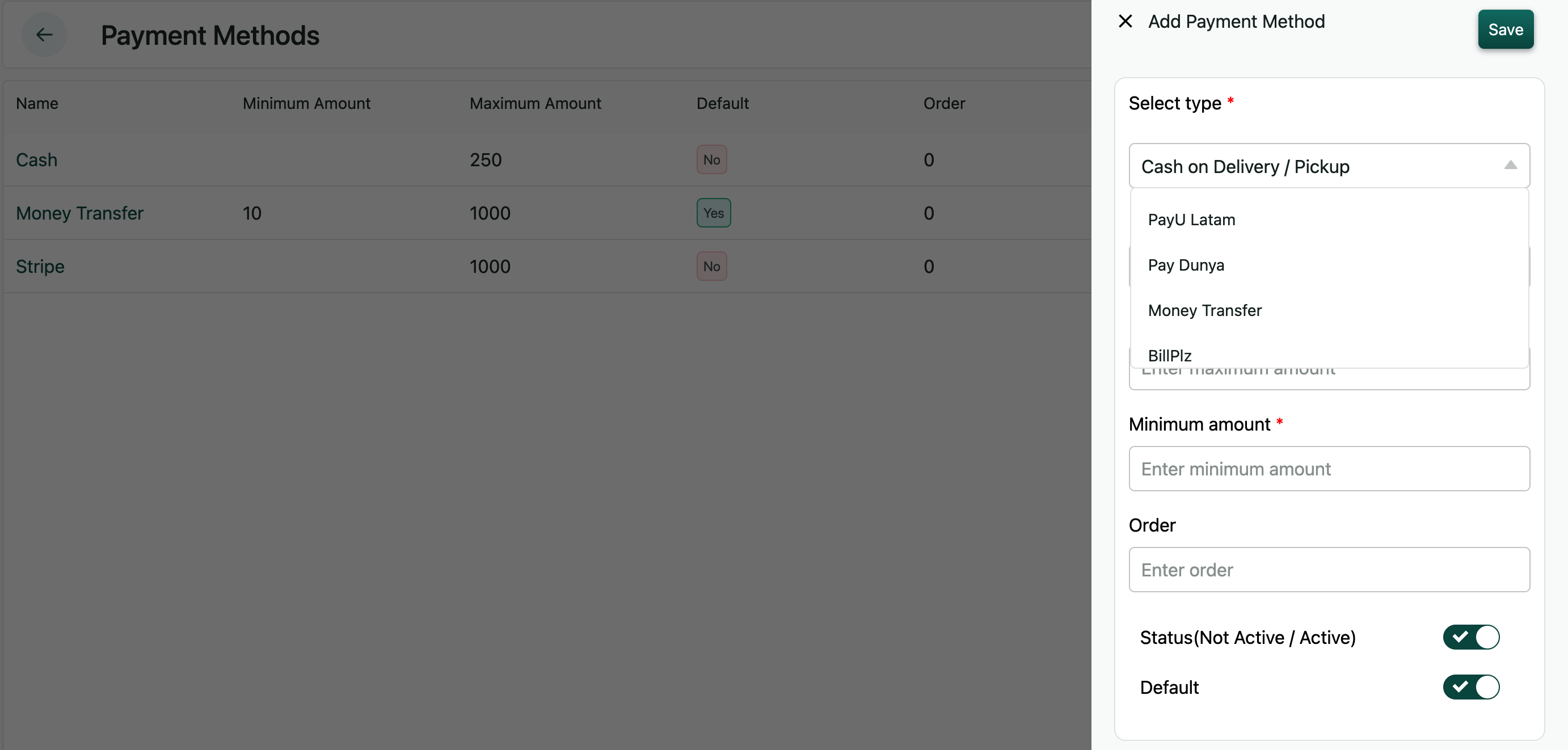 Configure revenue model, commissions: Settings > commissions OR Settings > Subscriptions OR Settings > Special Fees
​
C. Web Integrations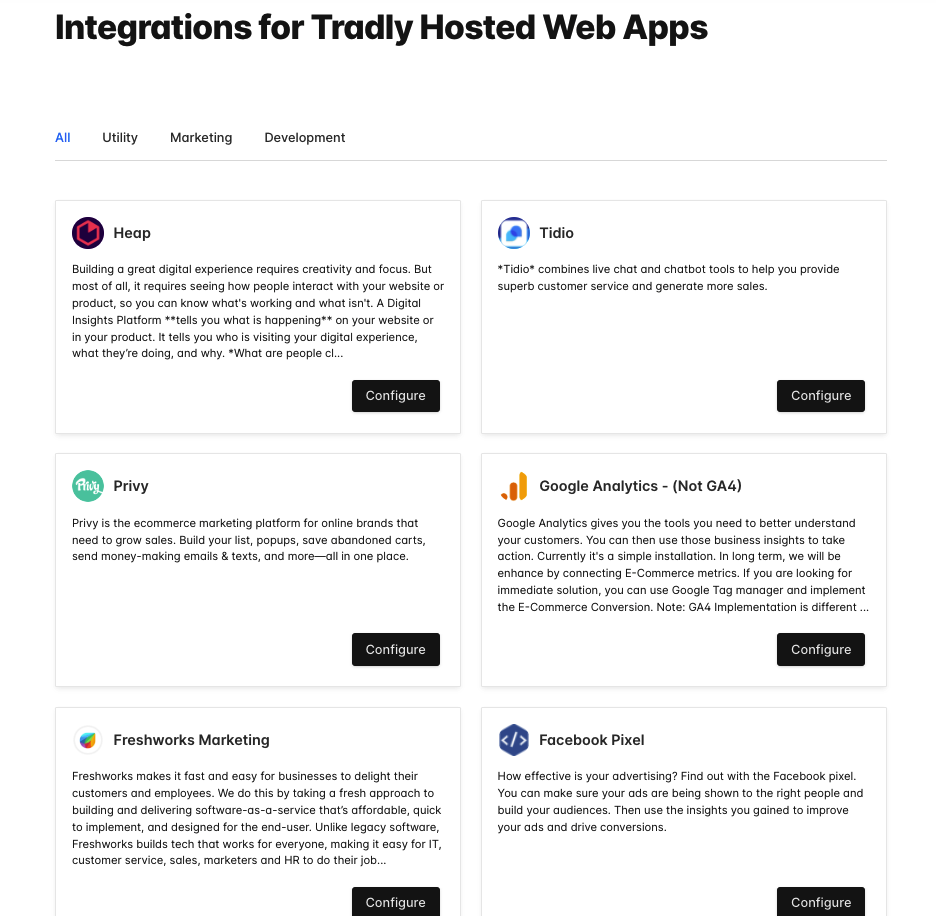 Dozens of website integrations to help you with marketing, analytics and products. Check here
​
System integrations
Configure email if you want the emails to be whitelisted
Configure domain if you want good deliverability of emails
Configure Google Maps if you have location specific features
​
For developers
Tradly makes it simple and easy 

to launch projects.

- Launch Marketplaces, Online Storefronts, Booking Apps, Classifieds, Directories, Partner Portals, App Stores, etc.
- Tradly pricing starts with ZERO. You pay only when you grow.
- Free No-code Integrations, No-Code Editor