Looking to build a Grocery marketplace, and apps? Here is the toolkit to launch any marketplace without writing a single line of code.
Tradly Platform has a simple user interface to build any marketplace like Grocery marketplace and launch your marketplace with our no-code and low code software. It is a complete white label solution…
The marketplace can be built on any platform, whether it is Android or iOS. Along with this option, you also get a web app template to get started.
Here is an example of how you can configure the catalog, listing fields in your marketplace…
​
Food/Grocery Marketplace
Food/Grocery Marketplace - Preview
​
Listing Categories
| Main Categories | Subcategory |
| --- | --- |
| Beverages | Coffee |
Tea
Juice
Soda
| | Bread/Bakery | Sandwich loaves
Dinner rolls
Tortillas
Bagels
| | Canned/Jarred Goods | Vegetables
Spaghetti Sauce
Ketchup
| | Dairy | Cheeses
Eggs
Milk
Yogurt
Butter
| | Dry/Baking Goods | Cereals
Flour
Sugar
Pasta
Mixes
| | Frozen Foods | WafflesVegetables
Individual Meals
Ice cream
| | Meat | Lunch Meat
Poultry
Beef
| | Produce | Fruits
Vegetables
| | Cleaners | Laundry Detergent
Dish-washing Liquid/Detergent
| | Paper Goods | Paper Towels
Toilet Paper
Aluminum Foil
Sandwich Bags
| | Personal Care | Shampoo
Soap
Handsoap
Shaving Cream
| | Other | Baby Items
Pet Items
Greeting Cards
|
​
Listing Attributes
| Attribute Groupings | Attribute | Example Values | Applicable for |
| --- | --- | --- | --- |
| General Attributes | Extra Fast Delivery | $50 | |
| All | | | |
| | Quantity | 1 kg | |
| All | | | |
| | Coupon Code | FAV10 | |
| All | | | |
| | Payment Method | PayU | |
| All | | | |
| General Information | Quality Promise | Each product has gone through a stringent quality checking process in 3-stages, with a checkpoint of over 50 quality aspects. | |
| All | | | |
| | Easy Returns | Not satisfied with a product? Return it to the doorstep & get a refund within hours. | |
| All | | | |
| Knowledgebase | About Our Service | We provide a grocery delivery service across 25 cities in India. Choose from 5000+ products across food, household & other categories. | |
| All | | | |
| | Get grocery delivered at the best price | Cheaper prices than your local supermarket, great cashback offers to top it off. | All |
You can charge a commission-based revenue model.
For Example, You can charge a certain amount of percentage when each sale is made by the seller…
You can collect payment using Stripe, PayU, or Cash on Delivery, etc.
You need to decide the delivery method you want to offer in your marketplace very carefully. You can opt for different methods. Learn more about it by clicking here.
Looking to build a marketplace? but don't know how to start… This Video Tutorial will guide you on how to build a marketplace…
Checklist from start to end on what you need to build a marketplace using Tradly Platform.
Tradly Platform solution is catered to different groups separately
For developers: Headless API solution. Using the API solution, developers can build apps on top of it.
For no-code creators: A simple toggle based SuperAdmin Panel to configure features in the already pre-built apps (also called as storefront, front end apps, templated apps).
​
For developers
​
5 Steps for no-code creators and builders
Choose the templates Website or Mobile Apps

Do the branding customisation & business informations on launchpad

Prototype your app using our SuperAdmin builder and Visualise your app through test apps.

Launch
Web App: By default when you register, you will get the production URL to use the app. And you can add custom domain.
Mobile App: When you are ready to launch, Subscribe to our plans and get a white label app build
​
Advanced Informations
​
A. UI Customisation via SuperAdmin
Settings > App Customistion
App Name
App Primary & Secondary Colour
App Icon
Splash launch images
Onboarding images, Onboarding Text
Registration Text
Sell Icon (optional)
App title in Home Screen (Default will be app name) And others
​
B. Platform Fundamentals
You must configure the below things for the system to be able to open accounts, submit listings and make purchases.
Configure accounts: Settings > accounts(categories, attributes)

Configure listings: Settings > listings (Setting up listings information to be collected. Categories, attributes)

Stripe/other payment gateways configuration

Configure revenue model, commissions: Settings > commissions OR Settings > Subscriptions OR Settings > Special Fees
​
C. Integrations
​
App integrations
Chat setup via Firebase ,
Optionally referral / sharing features via Branch
Optionally later legal informations (privacy, terms, etc)
​
System integrations
Configure email if you want the emails to be whitelisted
Configure domain if you want good deliverability of emails
Configure Google Maps if you have location specific features
​
Website Integrations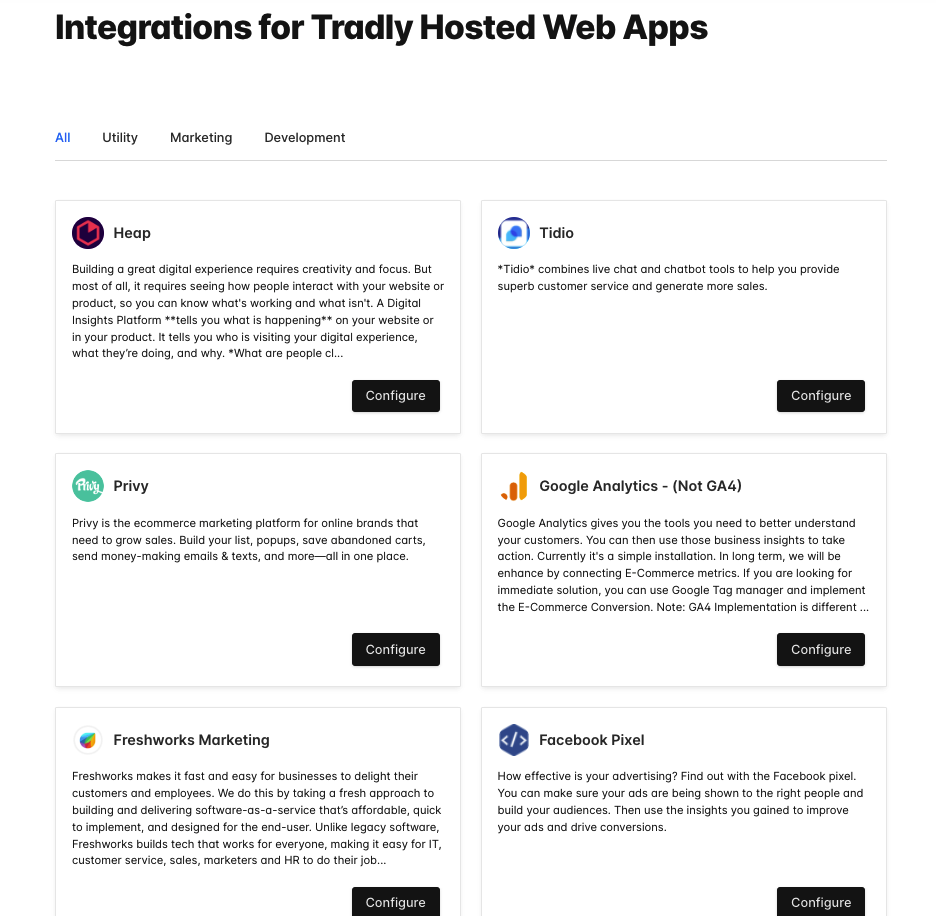 Dozens of website integrations to help you with marketing, analytics and products. [Check here](https://tradly.app/integrations)