Looking to build a parental marketplace and apps? Here is the toolkit to launch any marketplace without writing a single line of code.
Tradly Platform has a simple user interface to build any marketplace like parental marketplace and can be controlled every feature in one single dashboard. It is a complete white label solution…
The marketplace can be built on any platform, whether it is Android or iOS. Along with this option, you also get a web app template to get started.
​
Babysitting, Child care, and Parental Marketplace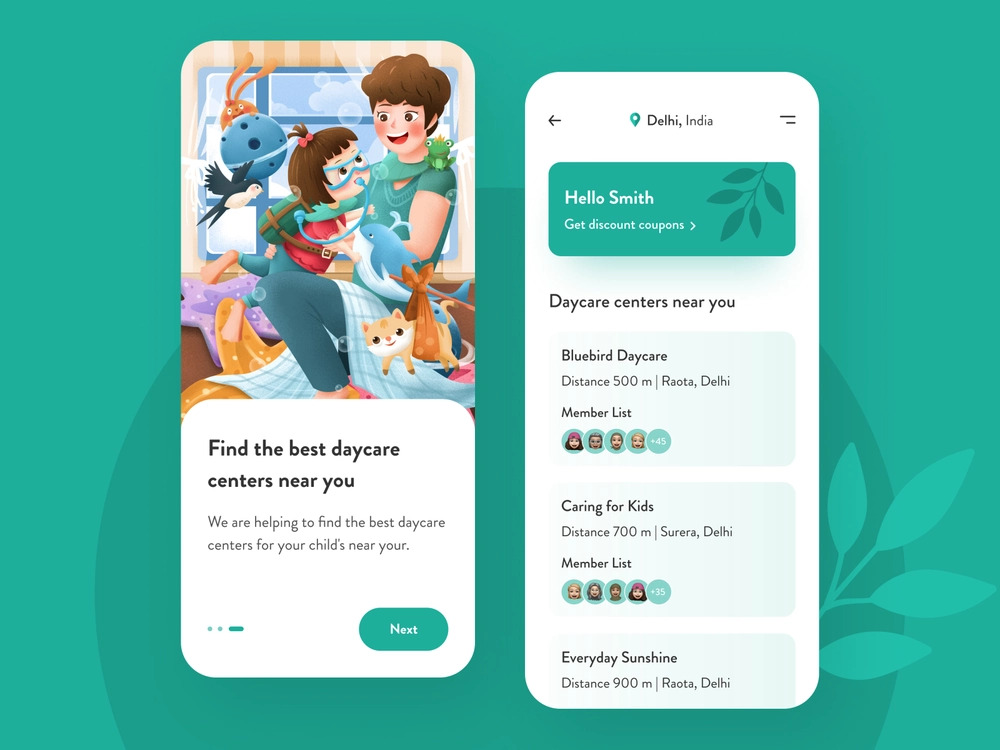 Here is an example of how you can configure the catalog, listing fields in your marketplace…
​
Listing Categories**
Traditional daycare center
In-home daycare
Nanny
Shared nanny
Babysitter
Relative care
Preschool
​
You can charge a commission-based revenue model
You can charge a certain amount of percentage when each sale is made by the seller

You can collect payment using Stripe, PayU, or Cash on Delivery, etc.**
Looking to build a marketplace?** but don't know how to start… This Video Tutorial will guide you on how to build a marketplace…
Checklist from start to end on what you need to build a marketplace using Tradly Platform.
Tradly Platform solution is catered to different groups separately
For developers: Headless API solution. Using the API solution, developers can build apps on top of it.
For no-code creators: A simple toggle based SuperAdmin Panel to configure features in the already pre-built apps (also called as storefront, front end apps, templated apps).
​
For developers
​
5 Steps for no-code creators and builders
Choose the templates Website or Mobile Apps

Do the branding customisation & business informations on launchpad

Prototype your app using our SuperAdmin builder and Visualise your app through test apps.

Launch
Web App: By default when you register, you will get the production URL to use the app. And you can add custom domain.
Mobile App: When you are ready to launch, Subscribe to our plans and get a white label app build
​
Advanced Informations
​
A. UI Customisation via SuperAdmin
Settings > App Customistion
App Name
App Primary & Secondary Colour
App Icon
Splash launch images
Onboarding images, Onboarding Text
Registration Text
Sell Icon (optional)
App title in Home Screen (Default will be app name) And others
​
B. Platform Fundamentals
You must configure the below things for the system to be able to open accounts, submit listings and make purchases.
Configure accounts: Settings > accounts(categories, attributes)

Configure listings: Settings > listings (Setting up listings information to be collected. Categories, attributes)

Stripe/other payment gateways configuration

Configure revenue model, commissions: Settings > commissions OR Settings > Subscriptions OR Settings > Special Fees
​
C. Integrations
​
App integrations
Chat setup via Firebase ,
Optionally referral / sharing features via Branch
Optionally later legal informations (privacy, terms, etc)
​
System integrations
Configure email if you want the emails to be whitelisted
Configure domain if you want good deliverability of emails
Configure Google Maps if you have location specific features
​
Website Integrations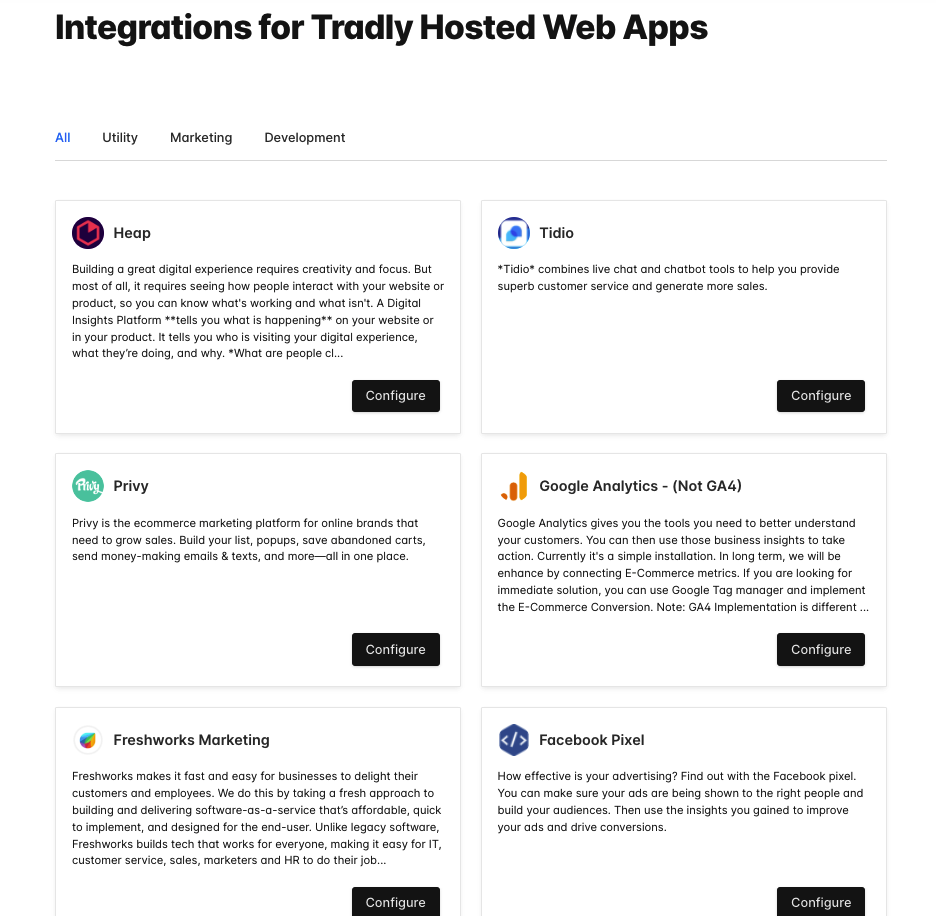 Dozens of website integrations to help you with marketing, analytics and products. [Check here](https://tradly.app/integrations)
​
Resources
Tutorials - Guides - Demo