Reimagine the shopping Mall & Retail outlets with Digital tech
" In the next five years, 20-25% of American malls are set to close due to online sales " - Credit Suisse. "Consumers want things fast….People are moving towards the fastest channel."
"Millennials prefer tech and social heavy experiences."
Are you hearing the same? Reach out to us to see how we can transform your business
​
Imagine anything with TradlyAPI/TradlyPlatform
​
Sell Anywhere​
With API first headless commerce architecture, TradlyAPI allows you to expand your offering into any display experience/channels like social, apps, physical kiosk, chatbots, etc. Single source of data supplied to multiple interfaces giving your users every new experience they love.
​
Scale Rapidly & Secure
Whether you are building a simple apps for your shopping mall or building the app for retail outlets across the world, our API solution are scalable powered by AWS with security and many compliance. Find more information on our API docs.
​
New Technologies Pre-Built
New technologies like voice commere, Intelligent search, personalization using AI or anything that matters to the commerce tech, we will developing throughout the year for you to consume. Signup for invite only private newsletter which gives updates on our product roadmap.
​
Bridging offline to online with omni-channel
Fast. Flexible. Full control. With TradlyPlatform, you can transform into future
​
Features to help all the players in shopping experience
​
Benefits to Shoppers
- Find the promotions of the store before you visit - Find the new arrivals and other items in the shop before you visit - Get offers/discounts from the store directly in the app - Chat with the merchant from the app - Follow the brands - Order online, collect later
​
Benefits to Mall Owners
Having a branded app under a mall providing the tenants more benefits. By increasing the tenants revenue through additional channel increases the lifetime retainer of rental service Having a branded app makes the merchant stick with their own digital ecosystem Competing with every growing online channels with their technology advance.
​
Benefits to Retail Merchants
No commission to the companies like Lazada and shopee and still give the users a digital experience Retain the customers with always on digital channels Creating a new channel for people to buy from merchants Merchants can receive feedbacks and reviews from the buyers
​
Additional benefits means more tenants
iOS, android app, website for end users Merchant dashboard website for any sort of merchants Super admin panel for Shopping mall admin Optional website that can be mounted in Physical Display devices using Raspberry Pi
​
Catalog Management
Your clients are looking forward to taking actions to scale their businesses, just like you do. Tradly offers in-built complex features like variants, inventory management, Package based items. A buyer can send a custom message to a seller on your marketplace directly.
​
Quality Control
We know your marketplace should handle hundreds of thousands of unique business accounts. Have approval features per account or listings or even groups based approval to avoid unnecessary things.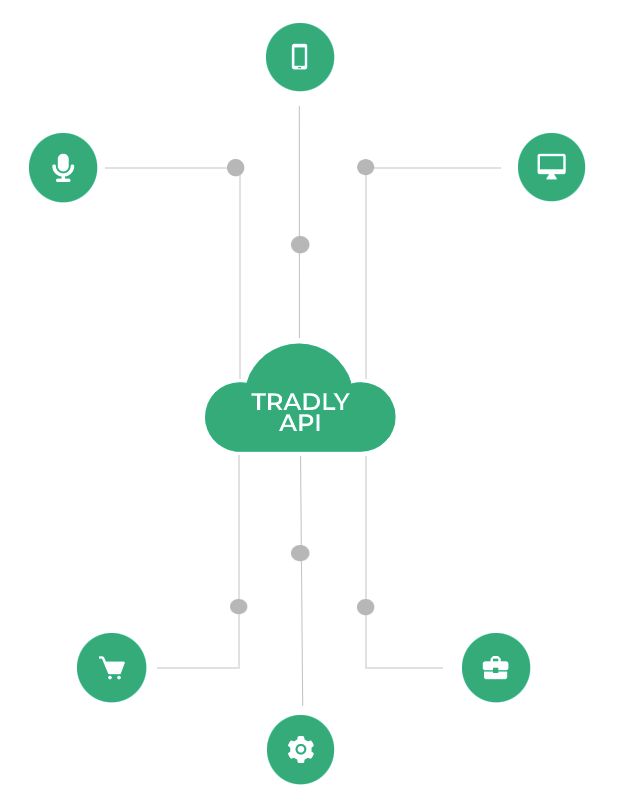 ​
User management​
Negotiations are part of the business. Let your buyers trade more by allowing them to take offline, fragmented negotiations to online, integrated negotiations. And, you can enable your buyers to request RFIs instantly from one or more sellers and suppliers. Enhance the B2B buyer experience from the start to the end.
​
Flexible Payments
Our API can support flexible payments. You can use simple payments like Paypal or go advanced payments like stripe connect for marketplace, adyen, rebilly, etc. You can still use cash on delivery or Pay and Pickup as well. Our product roadmap going to support virtual currency and credit system to manage it effectively.
​
Offline 2 Online - Digital Marketplace for Shopping Mall
We are bringing together the shopping mall experience and e-commerce experience to co-exist together by combining the physical touch, experience and the convenience whenever needed using digital technologies
​
Make Your Marketplace Work For You.
Set Rules, Manage Your Marketplace Community, Take Advantage of Our Partner Ecosystem, and Collect Payments. And, That's Just a Glimpse
​
Streamlined Management
Want to set quality standards? Sure, Tradly can help you create and enforce standards - allowing you to focus on onboarding sellers and buyers, rather than manually assessing the new users every day. Add, remove, define what business accounts can and can't do from one place. Make your marketplace safe, secure and clean from spams.
​
Improve Revenue
Custom input to special product/service attributes through our super admin dashboard, you can allow your sellers to set up listing in a way they want to. We designed Tradly with inventory management and product rich attributes in mind. By giving full flexibility on the custom attributes creation, you have full control on your marketplace's product listing structure - ensuring the same experience for the buyers.
​
Partner Ecosystem
We add new extensions to help you power your marketplace and enhance it with more features. With Tradly, you are joining a partner ecosystem that shelters extensions ranging from marketing to sales to analytics to ratings and reviews. You can continually evolve your marketplace to deliver the best experience for your users.
​
Leapfrog DNVBs
As you expand the marketplace, you need to compete with digitally native, vertical brands in your niche. We enable you to step up in terms of marketing, functionalities, and ultimately the overall experience with our native integrations and extensions. You can own your relationship with buyers and sellers and build long-term business relationships.
​
Built a great business. Do it with Tradly Platform