Expand, Innovate, Unlock Energy for All with Tradly
Bring your energy solution a step closer to the customer with our innovative and cohesive platform. Through Tradly, we intend to empower the base level user, increase accessibility of your product and most importantly reduce frictions in service delivery.
​
Imagine energy with TradlyAPI
​
Increase Accessibility of your product
Tradly provides you with innovative enlisting tools to widen your reach to the end consumer. Our smart tools and user friendly interface will help in bringing your energy solution to the customer's finger
​
Understand Customer, Deliver Better
Now understand your customer needs for better service delivery. Our platform interface allows user to enter personal details like their everyday energy needs, their budgets, area of installation etc. for you to analyze and deliver customized solutions to their energy problems
​
Simplify Operations & Save Costs
Use our tools to develop an ecosystem of lower operational costs, no middle men and ensure service delivery that is cost effective not only for the business but the end consumer as well.
​
Advanced API Platform for advanced tech startups
Built by engineers to engineers. Fast. Flexible. Full control. With TradlyAPI, you can break the standard
​
Charge Anytime, Anywhere
Revolutionize charging for your customer with our platform. Use our platform to develop community charge stations for your customer. Now they needn't worry about their EV or appliances running out of battery because we bring them charging at the click of a button. Share technology, develop a community of charge stations, provide charging anytime, anywhere with our API
​
Rent Energy in no time
It's not just retail anymore! Now rent Batteries, inverters, e-scooters, lighting etc. to awaiting lessees out there. Energy is tricky and pricey, catch your customers early on with all the right solutions. Use our cohesive interface to provide them with last mile mobility solutions or urgent and momentous lighting needs.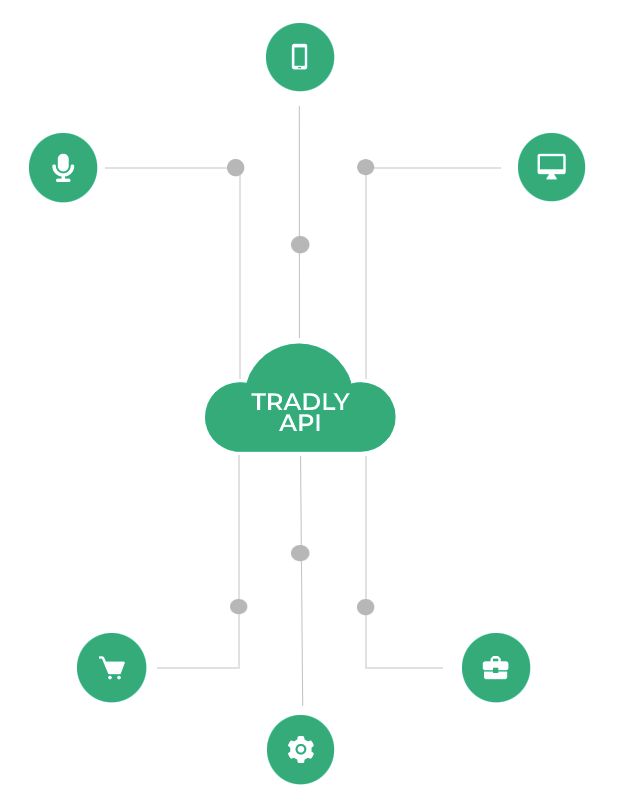 ​
Cold Storages
Your Customers shouldn't fret over goods getting perished anymore because we have the perfect solution. Now provide cool storage facility to all your customers, right from a small farmer to the biggest wholesaler out there, through our API. With our innovative approach and powerful tools, you can now build a storage facility anywhere and in no time. Build a powerful community of storage providers, reduce investments, deliver cheap, widen reach.
​
Energy Solutions for Home & Businesses
Empower communities with your innovative energy solutions by assessing the ground level realities and provide better service and customizations to your clients, all through our API
​
Make Your Marketplace Work For You.
Set Rules, Manage Your Marketplace Community, Take Advantage of Our Partner Ecosystem, and Collect Payments. And, That's Just a Glimpse
​
Easy to Use Interface
Tradly is where we make things simple for you. Don't let your customers be dazzled by complexities any longer. Deliver your innovative solutions to complex Energy problems through our simple API. Now avail charging or a cool storage facility in no time through our Platform.
​
Build Your Own Supply Chain
You have yourself an innovative solution to Man's energy problems! your next step is to bring it to those in need. Our platform allows you to coordinate and build your own supply Chain connecting supply and demand. Manage operations and build a system that encourages growth and betterment for all.
​
Flexibility in Bookings
Your customers can now make bookings for cool storage and charge stations anytime. All they need to do is log on to the app, select any nearby facility through our customizable map view and make a booking. Hassle Free Process, 24*7 availability
​
Manage and Secure Your Operations
As your Business grows, so does the complexity of coordination and security. Our platform and Superadmin Panel provides several security checks both for your business and for your customers. With our GPS facility, keep track of your Users Bookings, ensure quality service through regular Feedbacks and reviews, organize and regulate bookings.
​
Built a great business. Do it with Tradly Platform
​
Charging Station Marketplace
Launch your charging station app allowing your energy providers to submit the charging station to help E-Scooters, Electric Cars, etc
​
Cold Storage Facility marketplace
Launch your cold storage marketplace to allow Farmers, Vegetable and fruit vendors, Whole-sellers of grain and fruits and vegetables Food carts
​
Energy Alternative Supply
Let Households, Small business spaces, Shops, Residential societies and others share energy each other as alternative source of energy providers