Looking to build a directory website for your community or company?
Welcome to Tradly, the fully flexible and no-code solution for creating your own directory website or portal. Our template allows you to easily customize and launch your own site in no time, giving you all the tools you need to connect buyers and sellers in your community.
​
Why use Tradly to launch Directorys?
Start with a simple directory template or make a custom one with blank template and build a be spoke one.
Configure the front end of your portal with no code involved
But still add any 3rd party integrations you would like to have
Configure your directory setup with no-code superadmin (onboarding setup, data collection of users)
At any point of time your directory can be converted into a marketplace with payment module
Allow only logged in users to view the directory
Setup subscription for membership
Have featured listings or promotional banners anywhere in your website with builder
​
OTHER FUNDAMENTAL FEATURES
Self registrations: With our template, users can easily create their own accounts and start posting listings right away.

Quality and Management: You can approve or reject or block any listings and users anytime.

Listing creation: Template includes a simple and intuitive system for creating and managing listings, allowing users to add details, photos, and other information about their items or services.

Reviews: Our template allows users to leave reviews for the listings they've purchased or used, providing valuable feedback and helping other users make informed decisions.

Multiple images: Users can add multiple images to their listings, giving buyers a better idea of what they're selling.

Search filters: A range of search filters to help users find the listings they're looking for, including categories, locations, and keywords.

4 level of category creation: Our template allows users to create up to four levels of categories, providing a flexible and comprehensive system for organizing listings.

Mini analytics: SuperAdmin has mini analytics for listing submitters, giving them insight into how their listings are performing and how many views they're getting.

Featured section: Add a featured section that allows users to highlight their most important or popular listings.

Search function: A powerful search function that helps users find the listings they're looking for quickly and easily.

With the Free Directory Template, you can easily create your own Directory website and start connecting multiple type of users. Try it out today!

Location search: A location search feature that allows users to find listings in specific areas or neighborhoods. This can be especially useful for buyers who are looking for items or services in their local area.

Favourite listings: Allows users to save listings as their favorites, allowing them to easily keep track of the items they're interested in and revisit them later.

Custom fields: The ability for users to create custom fields for their listings, allowing them to add additional details or information that may not be covered by the default fields. This can be useful for adding specialized or niche information that may be important to some users.
With these additional features, the Free Directory Template provides even more flexibility and customization options for creating your own Directory website. Try it out today!
​
How to create a Directory website?
Register a free account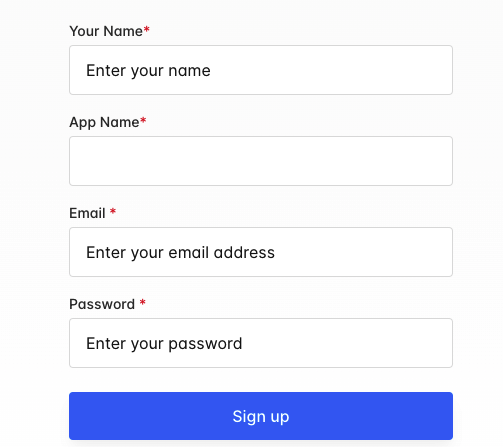 Duplicate any marketplace template we have in Tradly: The first step in creating a Directory website with our template is to duplicate one of the marketplace templates we have available. This will give you a pre-designed template to work with, saving you time and effort.
Directory / Marketplace Templates
See All
Customize the strings or catalogues from Superadmin: You have the ability to customize the strings or catalogues from the Superadmin dashboard. This allows you to change the text and language used on your website to match your brand and target audience. String Customisation Link
Customize the design: In addition to customizing the strings and catalogues, you can also customize the design and layout of your Directory website. This includes changing the colors, fonts, and overall look and feel of the site to match your brand and preferences. Editor Link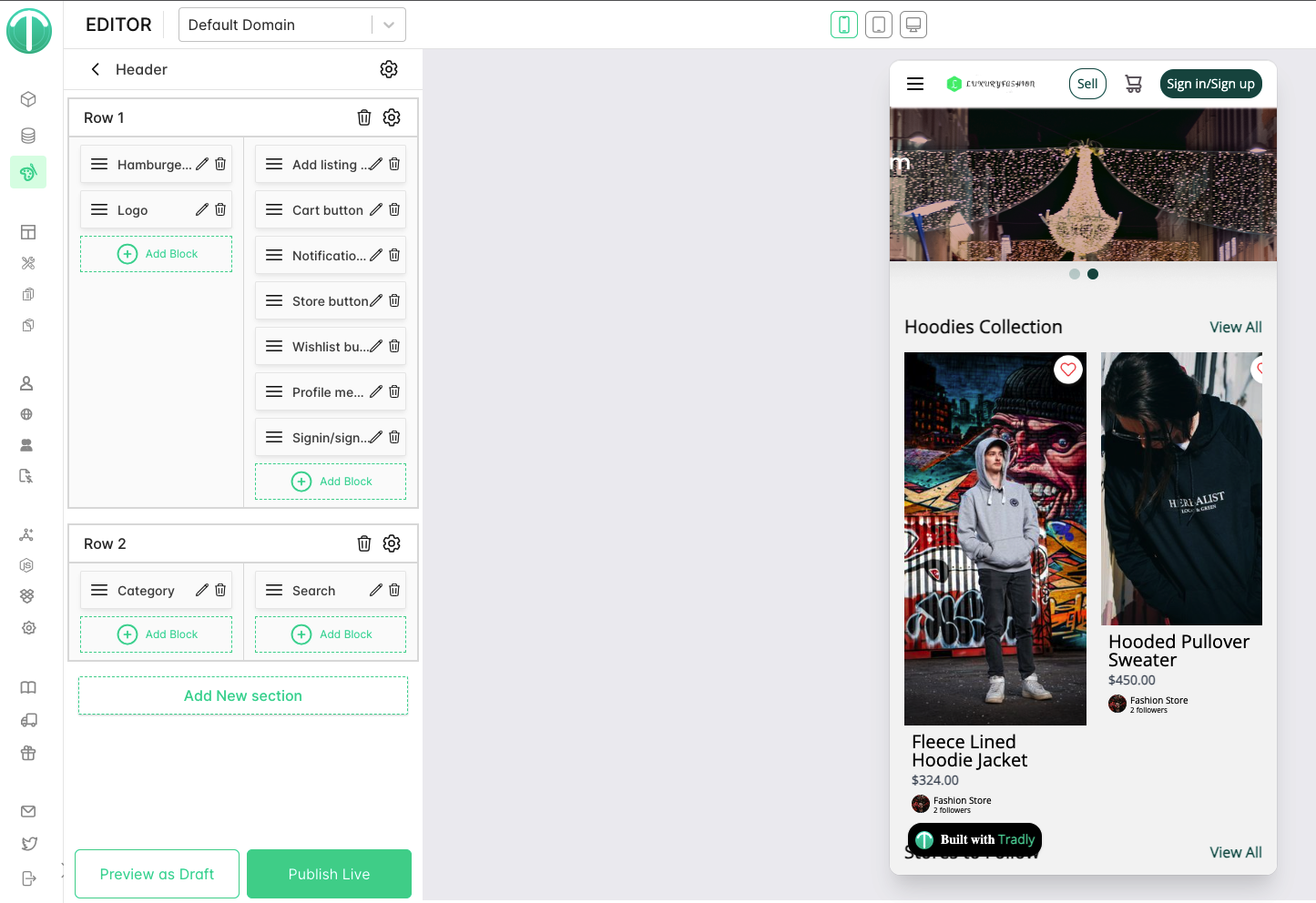 Add listings and categories: Once you have customized the template to your liking, you can start adding listings and categories to your website. This includes creating new listings, adding images and descriptions, and organizing them into categories. SuperAdmin Link
Launch your website: Once you have added your listings and categories, you are ready to launch your Directory website. Simply add your custom domain and start promoting it to attract users to your directory platform.
With these simple steps, you can quickly and easily create your own Directory website using our Free Directory Template. Try it out today!
Tradly makes it simple and easy 

to launch projects.

- Launch Marketplaces, Online Storefronts, Booking Apps, Classifieds, Directories, Partner Portals, App Stores, etc.
- Tradly pricing starts with ZERO. You pay only when you grow.
- Free No-code Integrations, No-Code Editor
​
Growing your Store
​
------
On top of Tradly Free Creator tools. You can add 3rd party apps inside your store for further faetures.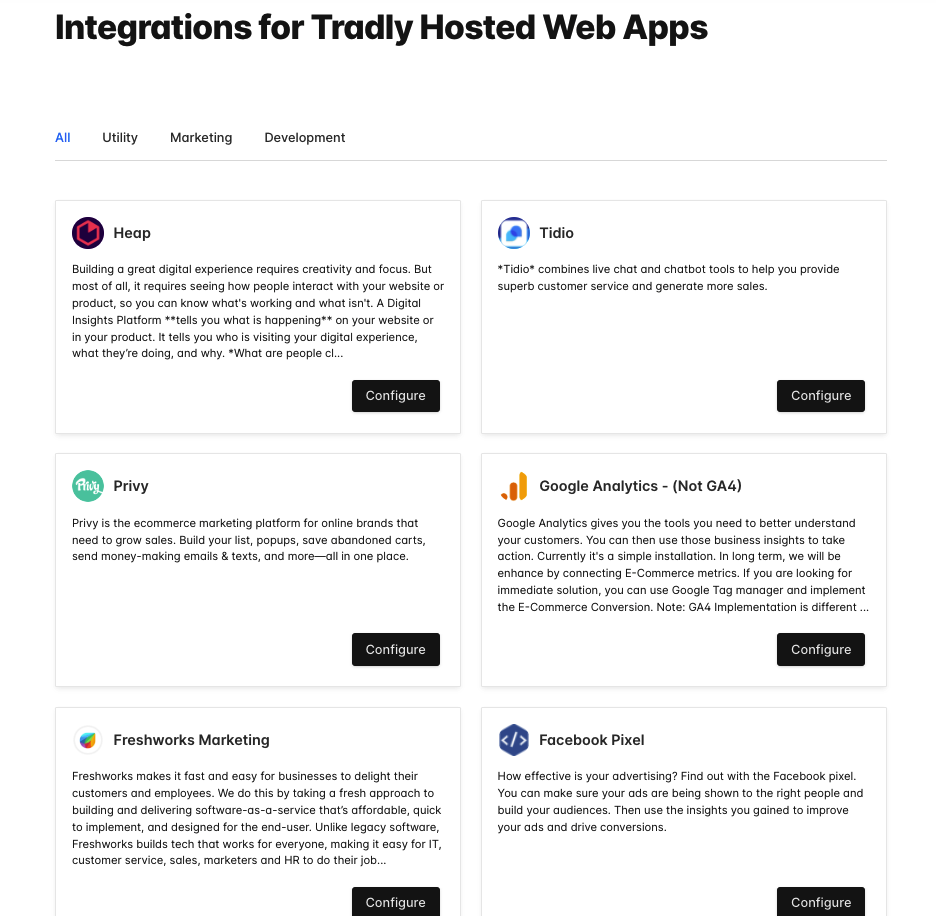 ​
SEO
SEO (Structured card image) & Search engine listing preview,
​
Email Tools
Integrating your online store with Marketing Tools (especially Mailchimp for emails)
​
Advertising Tools
Your hosted website can add integrations to run ads. Example: Facebook Pixel, Google Ads Conversion Pixel can be added through Native integrations. or you can use Google Tag Manager integration to do advanced pixel placement in specific pages or custom trigger condition.
​
Analytical Tools
Connect with Analytical Tools (like Google Analytics)
​
Feedback & Survey Tools
Connecting with Feedback & UX monitoring tools (like Hotjar, clarity) (By default, we have feedback form)
​
Promotion / Popup tools
Connecting Promotion / Popup tools
Advanced Growth Tactics
Increase AOV by setting up minimum purchase
Create Collection pages to get more exposure in Google Search results or thematic celebrations.
​
Scaling your Store
​
------
Established and looking to expand & Scale?
Fleet Management System to manage your own deliveries thus reducing cost and providing end-to-end delightful experience for your customers
Mobile Apps for your customers, so they can be in touch with you everyday
Additional Integrations on backend level (Via API and Webhooks) to support with your internal systems
​
Types of Directories
Here are some internal use cases for a directory website solution that can cater to NGOs, companies, communities, and corporations:
Employee directory: Create an internal directory where employees can search and find contact information, roles, and departments of their colleagues within the organization. This can help facilitate communication and collaboration among employees.

Resource directory: Build a directory of internal resources such as policies, procedures, guidelines, templates, and documents. This central repository can make it easier for employees to access important information and promote consistency across the organization.

Vendor directory: Maintain a directory of approved vendors and suppliers that the organization regularly engages with. This can include contact information, services offered, pricing, and performance ratings. It helps streamline procurement processes and enables efficient vendor management.

Knowledge base: Develop a directory of knowledge articles, FAQs, and documentation that serves as a self-service resource for employees. This can include information on various topics such as onboarding, IT support, HR policies, and best practices.

Project directory: Create a directory of ongoing projects within the organization, including project descriptions, team members, timelines, and milestones. This helps employees stay informed about ongoing initiatives and promotes collaboration and visibility across teams.

Expertise directory: Build a directory of employees' skills, areas of expertise, and interests. This can help identify subject matter experts within the organization, facilitate knowledge sharing, and enable better resource allocation for projects and initiatives.

Committee directory: For organizations with committees or working groups, maintain a directory that includes committee members, roles, meeting schedules, and objectives. This facilitates efficient communication and coordination among committee members.

Community directory: If the organization has multiple branches, divisions, or regional offices, create a directory to foster connection and collaboration across these entities. It can include contact information, location details, and areas of focus for each branch or division.

Volunteer directory: For NGOs or organizations that involve volunteer work, maintain a directory of volunteers, their skills, availability, and areas of interest. This helps in matching volunteers with suitable projects and opportunities.

Training directory: Develop a directory of training programs, workshops, and learning resources available internally. Employees can access information about upcoming training sessions, registration details, and training materials.

Business directory: Create a comprehensive directory of businesses within a specific geographic area or industry. Businesses can be listed with their contact information, website links, descriptions, and user reviews. This can help users find local businesses and make informed decisions.

Health and wellness directory: Create a directory that focuses on health and wellness services, such as spas, gyms, yoga studios, and alternative therapies. Users can find providers, read reviews, and book appointments directly through the directory.

Education directory: Build a directory that lists educational institutions, schools, colleges, universities, and training centers. Users can search for educational programs, courses, and workshops based on location, subject, and user reviews. The directory can provide information on admissions, faculty, and contact details.

Restaurants: A directory website can list various restaurants, cafes, and eateries, providing information about their cuisine, location, menu, and reviews.

Hotels: Users can search for hotels and accommodations based on location, price range, amenities, and customer reviews. The directory can include details such as room types, availability, and contact information.

Medical services: A directory can provide information on medical professionals, clinics, hospitals, and healthcare facilities. Users can find doctors, dentists, therapists, and other healthcare providers based on specialty, location, and patient reviews.

Event venues: Users can browse through a directory to find suitable venues for weddings, conferences, parties, and other events. The directory can include details about capacity, amenities, pricing, and availability.

Education and training: A directory website can list schools, colleges, training institutes, and courses available in various fields. Users can search based on location, subject, and accreditation.

Sports and recreation: Users can find sports clubs, fitness centers, yoga studios, and recreational activities in their area. The directory can provide details about facilities, membership options, and class schedules.

Beauty and wellness: A directory can list salons, spas, wellness centers, and beauty professionals. Users can find services such as haircuts, massages, facials, and beauty treatments.

Home services: Users can search for professionals offering home services, such as plumbers, electricians, carpenters, and cleaners. The directory can include contact information, service areas, and customer ratings.

Automotive services: A directory can list auto repair shops, car washes, and other automotive service providers. Users can find mechanics, body shops, and detailing services based on location and customer reviews.

Legal and professional services: Users can find lawyers, accountants, consultants, and other professionals through the directory. The listing can include details about their expertise, contact information, and client reviews.
Tradly makes it simple and easy 

to launch projects.

- Launch Marketplaces, Online Storefronts, Booking Apps, Classifieds, Directories, Partner Portals, App Stores, etc.
- Tradly pricing starts with ZERO. You pay only when you grow.
- Free No-code Integrations, No-Code Editor